It is often said that one of the downsides of fast-responding PEM (proton exchange membrane) electrolysers is that they require the use two expensive rare platinum-group metals (PGM) — platinum itself and iridium — to act as catalysts on their electrodes.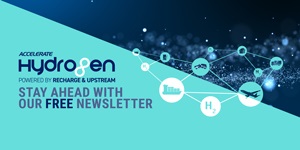 Hydrogen: hype, hope and the hard truths around its role in the energy transition
Will hydrogen be the skeleton key to unlock a carbon-neutral world? Subscribe to the weekly Hydrogen Insight newsletter and get the evidence-based market insight you need for this rapidly evolving global market
So when the World Platinum Investment Council (WPIC) reported earlier this month that there was a supply crunch of the precious metal, concerns were raised in the hydrogen industry that this could push up the cost of producing both PEM electrolysers and fuel cells, which are used in hydrogen-powered vehicles.
But should industry players be concerned in the short term, amid rising platinum prices, and if supply outstrips demand now, what might happen when demand grows as production of PEM equipment rises in the coming years and decades?
The WPIC raised eyebrows last month when it announced the platinum demand will outstrip supply this year by 983,000 ounces (27,868kg) — largely due to ongoing electricity shortages in South Africa, which produces 70% of the world's platinum — with no sign of a change in the short term.
Platinum market prices have risen from $909/oz three months ago to $1,037 at the time of publication — a 14% rise.
So does this mean that the cost of manufacturing PEM electrolysers and fuel cells will also rise accordingly?
The short answer is "not really".
Research firm Rystad Energy estimates that due to the small amounts of platinum actually used in the technology, even if the price increases by another 10% — beyond the $1,150/ounce forecast over the next 12 months by investment bank UBS — this will only raise the overall cost of an electrolyser by 0.1%.
"In terms of platinum [or] PGM supply we have no concerns," a spokesperson for British PEM electrolyser manufacturer ITM Power tells Hydrogen Insight, adding that the company has already met an EU target to reduce the amount of these precious metals in electrolysers down to 400g (14.1oz) per MW.
"We have spent 23 years engineering the cost out and continue to do so. We also recycle all of our stacks too — so it becomes a closed loop."
However, recycling will only get ITM so far, seeing as it plans to expand sales of PEM electrolysers exponentially over the coming years.
There could be a bigger impact on platinum prices in the future, however, when demand for platinum from electrolysers and fuel cells is far higher (see below).
What about iridium?
Rystad tells Hydrogen Insight that iridium — which is even rarer and more expensive than platinum — is more likely to drive prices up the cost of electrolysers.
The analyst says — in contrast to ITM's assertion — that PEM electrolysers require about 700g (24.7 ounces) of iridium per megawatt.
At today's price of $4,600 per ounce, that amounts to $113,620 per megawatt, and Rystad says iridium accounts for 8.1% of the cost of a PEM electrolyser.
A Johnson Matthey quarterly platinum group metals market report published earlier this month describes supply as "relatively price inelastic" since the metal is only produced as a by-product of other minerals, with data indicating it has maintained current prices since January.
But if demand for iridium grows faster than the supply, prices will inevitably rise.
"The installed electrolyser capacity is doubling every two years and the number of planned electrolyser capacity additions is also doubling every two years," Edward Sterck, director of research at WPIC, tells Hydrogen Insight.
Johnson Matthey stated in its report that "iridium demand in water electrolysis was virtually non-existent prior to 2020, but has climbed steeply over the last three years, to an estimated 10,000oz in 2022.
"Demand is forecast to double again over the next 18-24 months, as major market participants add production capacity for PEM electrolysers."
Lein Mann Bergsmark, a senior supply chains analyst at Rystad, says that while "platinum demand is generally very small as part of the overall market", this is not the case for iridium.
She anticipates that there could be an iridium supply shortage as PEM electrolysers scale up in the late 2020s.
While manufacturers are working to reduce the content of this metal, "the question is how the performance [or] efficiency of electrolysers will be compromised", Bergsmark says, noting that buyers might end up opting for alkaline alternatives, which only use steel and nickel, or otherwise factor lower efficiencies into project design by increasing renewable energy input.
Rystad estimated in a February press release that PEM electrolysers would have to reduce PGM use by 70-80% in the long term or be prohibitively expensive due to the increasing cost of their iridium and platinum-coated catalyst membranes.
However new, low-PGM PEM catalysts are already being tested at the laboratory stage, Bergsmark adds.
And California start-up H2U Technologies says it has successfully demonstrated an iridium-free PEM electrolyser.
What about demand for platinum in the longer term?
While South Africa's short-term supply problems do not present a challenge to the electrolyser sector, hydrogen tech could drive a sharp increase in demand from the world's 70,000 tonnes of PGM reserves.
The WPIC expects electrolysers and stationary fuel cells to use an extra 24% of platinum this year compared to last, but hydrogen technologies could account for 16% of total demand by 2030.
"Platinum demand for PEM is generally very small as part of the overall market," says Bergsmark, noting an annual production of 180 tonnes of platinum compared to the 300kg needed for 100MW of this type of electrolyser.
As such, she anticipates PEM technology "will make up a small share of the platinum demand for many years ahead", and that "there is enough time to test reduction of [platinum] loading [per electrode] in a way that will not compromise performance".
But what happens if the demand for PEM fuel cells, which also require platinum, takes off due to a sharp increase in purchases of hydrogen-powered fuel-cell electric vehicles (FCEVs)?
To start with, the fact that platinum is already used on fossil-fuel vehicles' catalytic converters plays a huge part in the equation.
The WPIC forecasts that internal-combustion-engine (ICE) vehicles will require 3.2 million ounces of platinum this year alone, a 12% increase on 2022.
Sterck anticipates that while demand for the metal from ICE vehicles is expected to fall in the latter half of this decade, it will be replaced or even exceeded by its use in FCEVs.
"We think that the ICE tail will be more prolonged than a lot of other commentators," he says. "Put simply, not all geographies or vehicle roles are suitable for battery electric vehicles on current technologies."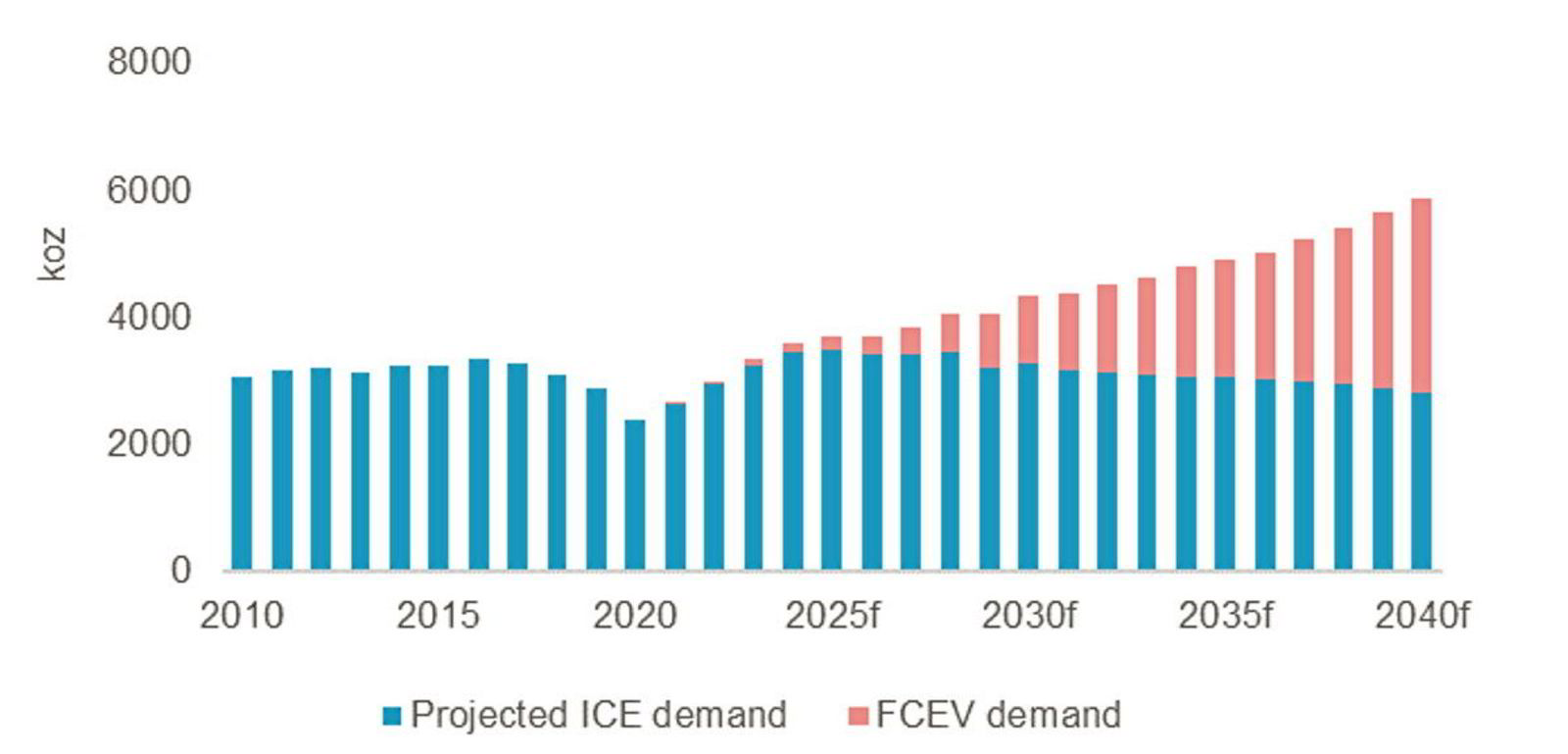 After a peak in 2028, FCEVs will be the main driver for platinum use in automobiles even if deployment in the global fleet is low, he explains.
"This is slightly skewed by FCEV demand being biased to larger heavy-duty vehicles [rather than cars]."
With continued ICE sales and increased demand from FCEVs, the sector could need six million ounces of the rare metal annually by 2040, Sterck forecasts.
Johnson Matthey notes that FCEV manufacturers have already reduced platinum loadings per kilowatt by 90% since the 1990s, when the technology was truly in its infancy.
"With growing concern around theavailability of critical raw materials for BEVs [battery electric vehicles], the lower metalintensity and different material requirements of fuel cell vehiclesare likely to prove another factor in favour of their uptake," the firm says.
However, opinions about looming shortages of lithium, nickel or cobalt — the three main ingredients in traditional lithium-ion batteries — vary widely, especially as BEV companies such as Tesla are switching to LFP (lithium iron phosphate) technology that does not require cobalt.
­­­­­­