The UN climate conference in Sharm El-Sheikh may have been a disappointment in terms of reducing greenhouse gas emissions and phasing out fossil fuels, but it was something of a breakthrough for green hydrogen, with major initiatives announced, and two new countries jumping on the H2 bandwagon.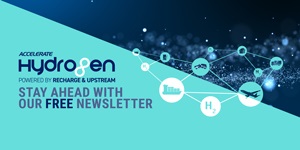 Hydrogen: hype, hope and the hard truths around its role in the energy transition
Will hydrogen be the skeleton key to unlock a carbon-neutral world? Subscribe to the weekly Hydrogen Insight newsletter and get the evidence-based market insight you need for this rapidly evolving global market
Moves to establish an international green hydrogen trade, particularly for Europe importing renewable H2 from developing countries, took a giant step forward, with Germany leading the way, the World Bank launching a new finance initiative, and the EU signing supply deals with Egypt, Kazakhstan and Namibia.
On 8 November, the third day of what turned out to be a two-week event, Chancellor Olaf Scholz revealed during a roundtable meeting that Germany would increase the budget for its landmark H2Global scheme — which will subsidise and import green hydrogen from outside the EU — from €900m ($921.5m) to €4bn. And he added that the first tendering process for the scheme will "start straight after COP".
Eight days later, German development minister Svenja Schulze announced plans to provide €550m for two new green hydrogen funds — with €250m to promote H2 investments in emerging nations, and €300m to support German companies (or European firms with permanent German operations) making "cyclical investments that can contribute to the global market ramp-up of green hydrogen".
A day earlier, the World Bank Group announced its own global initiative, the Hydrogen for Development Partnership (H4D), to help finance the deployment of low-carbon hydrogen in developing countries.
"The partnership will foster capacity building and regulatory solutions, business models, and technologies toward the roll out of low-carbon hydrogen in developing countries," said the World Bank in a statement. "Through H4D, developing countries will gain further access to concessional financing and technical assistance to scale up hydrogen projects."
Also at COP27, the EU signed framework agreements with Egypt, Kazakhstan and Namibia to enable the import of green hydrogen from the three countries — all of which have big ambitions for renewable H2 production.
And a new global commission was formed at COP27 to speed up permitting for green hydrogen and renewables projects.
The Planning for Climate Commission — a joint initiative by the Green Hydrogen Organisation, the International Hydropower Association, the Global Wind Energy Council, the Global Solar Council and the Long Duration Energy Storage Council — says it "will agree a set of recommendations by mid-2023 and is expected to present its findings to the UN General Assembly in September 2023".
Planning permission is widely seen as one of the biggest obstacles to decarbonising the energy system, with projects sometimes taking many years to navigate Kafkaesque bureaucracy, such as in Italy, where a single wind farm requires 24 different permits from multiple authorities.
At least three new green hydrogen projects — and one "pink" H2 pilot — were announced at COP27, although you could be forgiven for thinking there were more, as Egypt's PR machine made a big deal out of small steps forward for previously announced plans (see below).
Kenya took its first major leap into green hydrogen by announcing a deal with an unidentified investor to produce 30GW of renewable H2 in the East African nation, while also agreeing to fast-track a 300MW green ammonia project to be built by Australia's Fortescue Future Industries (FFI) — to build green fertilizer for the domestic market.
FFI also announced it was looking at developing 25GW in Kenya.
"The parties intend that this will be followed by the commencement of feasibility studies for two further projects that could scale up renewable electricity generation for green industries by up to 25GW, which could ultimately produce up to 1.7 million tonnes of green hydrogen per year for export," said FFI.
Kenya's neighbour Uganda also took its first steps in the green hydrogen space, by signing a memorandum of understanding (MoU) with French pure-play developer Hydrogene de France, which aims to build a hydrogen energy-storage facility in the country. Project details, however, were not forthcoming.
A strategic agreement to develop a "gigawatt-scale" green hydrogen project in Morocco was also signed at COP27 between Israeli electrolyser maker H2Pro and Moroccan renewables developer Gaia Energy, with a first 10-20MW demonstration project being lined up.
Perhaps the most surprising announcement at COP27 was the plan by the US and Ukraine to build a nuclear hydrogen project in the war-torn country, with solid-oxide electrolysers powered by Small Modular Reactor technology.
Elsewhere, COP27 hosts Egypt signed eight "framework agreements" for previously announced green hydrogen projects in the Suez Canal Economic Zone (see panel below), with electricity minister Mohamed Shaker saying that these were "even bigger than an MoU". The agreements are believed to give exclusive land rights to the developers, upon final investments decisions being taken, and the go-ahead to conduct feasibility studies into their projects.
Egyptian President Abdel Fattah El-Sisi and Norwegian Prime Minister Jonas Gahr Støre came together at COP27 to announce the commissioning of the first 5MW phase of the 100MW Egypt Green renewable hydrogen, highlighting that it was the first PEM electrolyser to be installed on the African continent.
However, in truth, the 5MW phase is still in the process of being commissioned, with first production not expected until early next year, and a final investment decision on the remaining megawatts has not yet been taken. When the project was announced last year, the project consortium — which includes Norwegian company Scatec — promised that it would be completed before COP27. But Egypt Green has faced severe delays, with Hydrogen Insight exclusively revealing that US manufacturer Plug Power has been dropped as electrolyser supplier for the full project.
How did COP27 compare to COP26 on hydrogen?
All in all, COP27 represented a giant leap forward for green hydrogen compared to COP26 in Glasgow. At COP last year, there were a handful of renewable H2-related announcements.
Scotland announced a draft action plan to become Europe's lowest-cost hydrogen producer, but no further announcements have been forthcoming from its devolved government.
FFI said at COP26 that it would "transform" Papua New Guinea into a hydrogen powerhouse, but again, no further news on this has since emerged from either camp.
A "Breakthrough Agenda" to make affordable renewable and low-carbon hydrogen globally available by 2030 was endorsed by supported by 36 countries, plus the EU, with signatories such as the US, Canada and Germany (see above) making significant progress on support schemes for clean H2 over the past 12 months.
Egyptian green hydrogen projects that received new framework agreements
A 2GW facility being developed by state-owned UAE company Masdar, in conjunction with Egyptian partners Hassam Allam Utilities and Infinity Power Holding, which is due to begin operations by 2026;
"Projects being considered" by FFI with the potential to produce 330,000 tonnes of green hydrogen annually from 7.6GW of renewable energy;
A $3.5bn green ammonia project being developed by the Saudi Alfanar group, targeting 500,000 tonnes of NH3 per year produced by 100,000 tonnes of green hydrogen;
EDF Renewables' 700MW project powered by 2GW of wind and solar, creating 80,000 tonnes of green hydrogen and derivatives in a first phase that is due to be in operation by 2026;
TotalEnergies is planning to produce 300,000 tonnes of green ammonia in its first phase of its project, and later possibly increase production to 1.5 million tonnes;
A 1GW green ammonia project being developed by Dubai-based developer Amea Power, powered by 2GW of wind and solar energy;
An $11bn, 3.6GW green ammonia project powered by 9GW of wind and solar, being developed by UK-based Africa-focused power plant specialist Globeleq;
An $8bn green hydrogen facility being developed by India's Renew Power, with a targeted annual production of 220,000 tonnes of green hydrogen per year.