Denmark is to offer green hydrogen producers a fixed-price subsidy to make renewable H2 derivatives such as green ammonia, methanol or e-kerosene, after it was given the green light by the European Commission to spend €170m ($182m) to upscale Power-to-X capability in the country.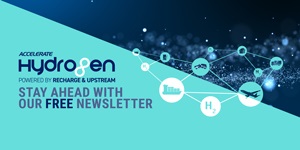 Hydrogen: hype, hope and the hard truths around its role in the energy transition
Will hydrogen be the skeleton key to unlock a carbon-neutral world? Subscribe to the weekly Hydrogen Insight newsletter and get the evidence-based market insight you need for this rapidly evolving global market
The Danish government will now launch a series of competitive tenders this year, in which producers can bid for fixed-price grants for the green hydrogen derivatives they produce from specific projects over a ten-year period.
The goal of the programme is to support the industrialisation of electrolysis projects in Denmark, which has the ambition to host 6GW of electrolyser capacity by 2030, powered by the country's abundant wind power resources.
Copenhagen is keen for much of this capacity to be used to make hydrogen derivatives such as methanol and ammonia, for use in aviation and shipping.
"By providing funding to the production of green hydrogen, we ensure that all PtX [Power-to-X] producers can in principle participate in the tender, as all known PtX technologies entail the production of hydrogen through electrolysis," it said in its H2 strategy, launched last year.
But the subsidy scheme is relatively low key compared to the scale of Denmark's ambition. In total, the auctions will only support 100-200MW of electrolyser capacity, just 1-2% of the country's 7-9GW project pipeline.
In total, Denmark has over 20 Power-to-X projects in the works, including a giant €8bn proposal from Danish developer GreenGo Energy to produce more than a million tonnes of undefined "green fuels" as part of a 2GW Power-to-X electrolyser scheme.
However, at least one project is already receiving some support from the EU's Horizon fund, including the 100MW Green HyScale project, run by a consortium that includes wind turbine maker Siemens Gamesa, Norwegian oil giant Equinor and French green hydrogen developer Lhyfe.
Margarethe Vestager, the European Commission's executive vice-president in charge of competition policy, said the scheme would support the most "cost effective projects, reducing costs for taxpayers and minimising possible distortions of competition".
"This €170m scheme is an important step towards securing Europe's decarbonised future, as it will support the development of nascent Power-to-X technologies," she added. "It will help capitalise on Denmark's increasingly renewables-based electricity sector to reduce emissions in sectors that are otherwise difficult to decarbonise."