EU politicians must learn from the collapse of the European solar manufacturing industry in the 2010s when cheap Chinese solar panels flooded the market, and urgently introduce "Made in Europe" requirements to EU hydrogen subsidies in order to protect the domestic electrolyser sector against cheaper Chinese models.
This call to "level the playing field" has been made by 21 European hydrogen companies — including 11 electrolyser makers such as Thyssenkrupp, Nel, McPhy and Topsoe — in an open letter to European Commission president Ursula von der Leyen published today.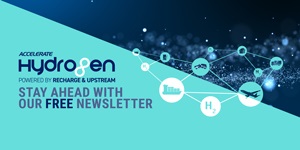 Hydrogen: hype, hope and the hard truths around its role in the energy transition
Will hydrogen be the skeleton key to unlock a carbon-neutral world? Subscribe to the weekly Hydrogen Insight newsletter and get the evidence-based market insight you need for this rapidly evolving global market
"The adoption of the US Inflation Reduction Act (IRA) heralds a paradigm shift in global trade and hydrogen production. The stipulations on "buy American" in the IRA, coupled with China's known policies to promote state entities, squeezes European manufacturers from both ends," the letter states — even though there is no specific support for electrolysers in the US law.
By contrast, "European money is finding its way into the hands of non-European based competitors", it adds. "Already, the first electrolyser project with stacks made in China has been installed in Europe."
"We need to ensure that future funding mechanisms such as the EU Sovereignty Fund and/or the Hydrogen Bank support the development of the electrolyser manufacturing industry in Europe. EU tax-payers money ought to be reinvested in Europe for the benefit of Europeans."
According to the companies, the request for "Made in Europe" standards is also a response to the risk of deindustrialisation in the EU.
"Now more than ever, we need to maintain European technological leadership in electrolysers to ensure energy security and industrial competitiveness. We must learn from previous lessons, such as the case of the solar industry."
In 2013, the EU imposed "anti-dumping" import tariffs on Chinese solar panels, in a bid to save the once-leading European PV manufacturing sector, but the move did not save any companies and it only led to increased costs for solar energy in Europe. It was scrapped in 2018.
Specifically, the electrolyser makers are asking for the EU to introduce a "fixed premium model per kg of green H2 with no auctions for an initial period to ensure the development of the sector and a level playing field" — a solution they argue would be similar to the "game-changing" US tax credits worth up to $3/kg for renewable hydrogen.
In addition, the companies ask to introduce funding mechanisms to support a "Made in Europe" hydrogen value chain, the creation of European jobs in clean tech manufacturing andEuropean centres of excellence in research and development, and to ensure "specific sustainability requirements such as recycling obligations and CO2 footprint of electrolyser manufacturing facilities".
"The enforcement of "European standards" will level the playing field and contribute to the rise of a new European industry. We can do this in line with EU policies and WTO [World Trade Organization] principles," the letter explains.
In an interview with Hydrogen Insight in November last year, Nel CEO Håkon Volldal referred explicitly to the European collapse in the solar sector when he urged European politicians to introduce local-content requirements.
"There is a fear of losing to China because the terms are not equal," he said. "The Chinese companies get subsidies and financing from Chinese authorities and can sell their products at prices that hardly can be matched."
"This is amplified because in Europe, we want workers with a decent salary, with pension plans, with reporting on transparency and taxonomy and equality and human rights and all of this costs, it costs money, and makes it hard to compete with the Chinese."
However, Raphael Tilot, head of hydrogen at Belgian electrolyser maker John Cockerill — which manufactures electrolysers in China and has not signed the letter — does not share Nel's fears that cheap Chinese machines would soon flood European markets unless the EU intervenes.
In an interview with Hydrogen Insight in December, he pointed to practical reasons discouraging the shipping of heavy electrolysers across the globe and the different standards and norms for electrolysers in China and Europe.
"To put it simply, it doesn't make sense to export electrolysers from China. At least, I would say it is not our strategy," he said.
It is worth noting that several other major European electrolyser makers have also not signed the letter, including Germany's Siemens, ITM Power in the UK, and Norway's HydrogenPro.
Here is the full list of signatories of the letter:
Advent Technologies (US-based fuel cell producer, with offices in Denmark, Germany and Greece)
AEG Power Solutions (Dutch electric power supply company)
Agfa (Belgian electrolysis membrane technology producer
Ariema (Spanish electrolyser maker)
Efacec (Portuguese power company)
Genvia (French electrolyser maker)
Green Hydrogen Systems (Danish electrolyser maker)
H2Energy (Swiss-based H2 project developer)
Hydrogenica (US-based venture capital firm)
H2B2 (Spanish electrolyser manufacturer)
Haldor Topsoe (Danish electrolyser manufacturer)
Hystar (Norwegian electrolyser manufacturer)
Kiwa (Hydrogen classification company)
McPhy (French electrolyser maker)
Nel (Norwegian electrolyser maker)
Rina (Classification company)
SesHydrogen (Polish fuel cell maker)
Stargate Hydrogen (Estonian electrolyser maker)
Sunfire (German electrolyser maker)
Thyssenkrupp Nucera (German steel maker and electrolyser manufacturer)
Umicore (Belgian materials technology company)
The letter is also supported by trade association Hydrogen Europe and its Hydrogen Europe Research arm.