Fears that cheap Chinese electrolysers will flood Western markets and cause the downfall of European manufacturers — like in the solar sector in the 2010s — are unfounded, says the head of hydrogen at Belgian company John Cockerill, which produces electrolysers in China.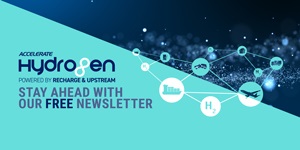 Hydrogen: hype, hope and the hard truths around its role in the energy transition
Will hydrogen be the skeleton key to unlock a carbon-neutral world? Subscribe to the weekly Hydrogen Insight newsletter and get the evidence-based market insight you need for this rapidly evolving global market
But in an exclusive interview with Hydrogen Insight, Raphael Tilot explains that some electrolyser makers will lose money for years to come — and "not everyone will survive".
Back in June, analyst BloombergNEF (BNEF) told Hydrogen Insight's parent website Recharge that Chinese alkaline electrolysers were available at a quarter of the price of Western equivalents, with little difference in quality — creating a high chance that a solar-style collapse would happen in Europe.
A subsequent report from BNEF in October declared that cheap Chinese electrolysers were likely to become popular worldwide during 2025-30, raising further concerns that Western manufacturers would lose much of their business to China.
Indeed, Håkon Volldal, chief executive of Norwegian electrolyser maker Nel, told Hydrogen Insight last month that the EU should introduce local-content requirements to protect the European sector from cheap Chinese imports.
But Tilot does not share such fears.
"To put it simply, it doesn't make sense to export electrolysers from China. At least, I would say it is not our strategy."
John Cockerill — the world's leading hydrogen electrolyser supplier in 2021 — has been building the water-splitting machines in Suzhou, near Shanghai, since 2018, and this year ramped up production there to 1GW after buying out its former Chinese joint venture partner.
But Tilot says the electrolysers manufactured in China are very different products to those on sale in the West.
"The focus [in China] is very much on capex [capital expenditure], and a bit less than Europe on energy efficiency. Which is pushing [China] towards cheap capex products."
European buyers are more focused on running costs, due to electricity being more expensive, he added.
Asked whether that means most Chinese electrolysers will be of lower quality, he says: "I would say the Chinese products are answering to what the clients want to see.
"I would not say one is better than the other, it's just different. The grade of steel will not be the same, then the way you design your equipment will not be the same."
Technical norms and standards are different in China and Europe, requiring certain materials and qualities, Tilot explains.
Regional approach
As Recharge exclusively revealed in May, John Cockerill — named after the Englishman who founded the mechanical engineering firm in 1817 — plans to build new electrolyser factories in Europe, China, India and the Middle East, with a global manufacturing capacity of 8GW by 2025.
Tilot tells Hydrogen Insight that John Cockerill is now also looking at building factories in North Africa and the US (see below).
He explains that regional production of electrolysers makes sense because a full alkaline electrolyser stack can weigh 50 tonnes and will often need a general overhaul and refurbishment after about eight years in use. Shipping costs alone would therefore discourage the purchase of electrolysers from the other side of the world.
"I don't see how it could work to ship [these stacks] back and forth [to China]", Tilot says.
"People should not compare solar panels or even batteries that you pack in containers and you ship very easily — that's plug and play on the other side of the planet — to green hydrogen or green ammonia plants, which are much more complex."
Asked whether smaller components could be produced in China and exported to Europe for electrolyser assembly, Tilot says he would "not exclude that, but I think it's key we build robust, cost-efficient supply chains on all strategy components in Europe. And this is also what the EU wants to see".
'No room for small players'
Tilot explains that he now sees a "change of gear" in the market for electrolysers and predicts that only a handful of manufacturers will survive in each region, as he believes customers will not be interested in buying the machines from across the globe.
"In five years, you will see that electrolyser OEMs will be large companies, there will be no room for small ones, because the projects are too complex and too big," he tells Hydrogen Insight.
"They will have to be extremely solid from a technical standpoint, from a project management standpoint, and from a balance sheet [point of view]."
Almost all electrolyser manufacturers are losing money today as they scale up their production capacity ahead of an expected surge in purchases once hydrogen subsidy schemes around the world are signed off.
But Tilot believes electrolyser makers will start becoming profitable before the end of the decade.
"It's a new industry, so it's normal that investment has to happen now to create this new industry of tomorrow," he explains.
"I think it would be the wrong priority to look for short-term profit. It's not happening next year or the year after. The real end game is later when volume will be large, and that is where we will need the right factories in the right places."
Tilot also dismisses concern from analyst Rystad Energy — reported exclusively by Hydrogen Insight — that electrolyser makers will go bankrupt this decade due to supply far exceeding demand.
He points to the gigawatt-scale green hydrogen projects in countries such as Saudi Arabia, Chile and Australia that could reach final investment decisions in the coming years, and therefore completely upend demand forecasts.
"I can name many other countries where today we have demand from clients to look at projects which are sometimes more than 10GW — for one project. So who knows what the demand will be [later this decade]?
"It will never be a perfect match between demand and supply. If there is oversupply, this is what the industry needs."
New factories in US, North Africa and elsewhere
John Cockerill is due to start building its 2GW factory in India next year, in partnership with local renewables developer Greenko Group, and it is also looking to expand its manufacturing capacity to 2GW in both China and Europe by 2025.
Next year could see several new announcements, Tilot suggests, with John Cockerill hoping to announce a final investment decision to set up a new factory in North Africa, seeing a big potential for renewable hydrogen production in countries such as Mauritania, Morocco and Senegal.
And following the US hydrogen tax credits announced in the Inflation Reduction Act (IRA) in August, the company is also looking to open a factory in America — "hopefully also with some announcement in 2023". Asked whether that means one facility or two, Tilot says "one or more", to be able to effectively serve the whole country.
The H2 tax credits will provide up to $3 per kilogram of green hydrogen, drawing a lot of investment to US shores. But the EU has complained that the IRA is in violation of international trade laws by offering "advanced manufacturing" tax credits to locally produced components and raw materials — effectively discriminating against non-US companies.
But again, Tilot does not share such concerns. "It is an amazing opportunity for European technology companies, because it will open very large markets for European technology," he states. "People in Europe are a bit worried, [but] I don't see it in such a way."
Electrolyser demand in China
China itself is a rapidly developing market for electrolysers, Tilot says, which may eventually prove to be beneficial to other parts of the world.
"The Chinese market is growing really fast, its probably two to three years ahead of the other markets", he explains. "It's high, high activity, high agility, and it's working."
Last month, the general manager of Cockerill Jingli Hydrogen, Eric Lin, stated that 1.5-2GW of electrolysers will be sold in China in 2023, up from 600-700MW this year.
Before the summer, John Cockerill signed a project with Chinese oil giant Sinopec to deliver 24 stacks of 5MW — a total of 120MW — which was delivered this autumn.
"I have not seen many of these projects [of that kind of size] already delivered in Europe. We are positioned for some of these projects in Europe, but we still have to wait a few years or so."