The EU should introduce local-content requirements for electrolysers — the machines that produce hydrogen from electricity — to protect European manufacturers against cheap Chinese imports, according to the CEO of leading electrolyser maker Nel.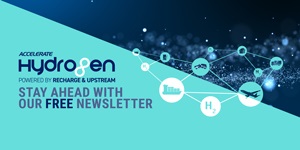 Hydrogen: hype, hope and the hard truths around its role in the energy transition
Will hydrogen be the skeleton key to unlock a carbon-neutral world? Subscribe to the weekly Hydrogen Insight newsletter and get the evidence-based market insight you need for this rapidly evolving global market
In an exclusive interview with Hydrogen Insight, Håkon Volldal warns that Europe could see its electrolyser manufacturing sector shrink in a similar way to how the once world-leading European solar-panel industry sector fell apart in the space of a few years when cheaper Chinese modules flooded the market in the late 2000s.
The fear is understandable. According to a recent report by analyst BloombergNEF, "Chinese alkaline electrolysis systems generally cost 25% of the price of the same type of project in Western countries, thanks to cheap labour and upstream supply from the domestic market."
And it added: "Chinese manufacturers have started their march into international markets... Electrolysis products made in China are likely to become popular worldwide during 2025-30."
Volldal tells Hydrogen Insight: "I hope the politicians have learned, and [understand] that you can actually introduce local-content requirements in Europe", he says. "Because the same can happen in hydrogen as happened in solar power.
"There is a fear of losing to China, because the terms are not equal. The Chinese companies get subsidies and financing from Chinese authorities and can sell their products at prices that hardly can be matched. And this is amplified because in Europe, we want workers with a decent salary, with pension plans, with reporting on transparency and taxonomy and equality and human rights and all of this costs, it costs money, and makes it hard to compete with the Chinese."
Asked whether this is an alarming message for shareholders and investors, Volldal says "no", as the company is "working every day to prevent this from happening".
"We have to work every day to make sure we have the best products. And even though they are not necessarily the cheapest products, they are the cheapest to own because they are the most efficient products.
"If we can have the best technology, the most efficient electrolysis process, we can outcompete the Chinese."
Volldal is now warning the EU against only subsidising hydrogen production — as it plans to do through a Contracts-for-Difference-style scheme.
"If you only support the producers of hydrogen, EU money will go to importing cheap technology produced and made outside of Europe," he says, urging European politicians to level the playing field by introducing local-content requirements.
Local-content requirements could demand that a certain proportion of equipment and raw materials are sourced inside the EU, or that production or assembly takes place in Europe.
In 2013, the European Commission ruled that subsidised Chinese solar panels were being sold in Europe at below cost and installed "anti-dumping" measures that set a minimum import price on Chinese modules. Chinese manufacturers then set up factories elsewhere in Asia in a bid to get around the restrictions — and the European solar manufacturing sector still collapsed.
The anti-dumping measures were eventually scrapped in 2018, after the European Commission declared that it was in the best interests of the EU and the fight against climate change for Europeans to be able to buy cheap solar panels.
"I am not saying that it is immoral and unethical to produce things in China," Volldal says. "What I am saying is that the EU must ensure that the money is actually used like they are intended, namely making Europe a leader. That is not what you get if you hand out money used for capacity building and technology development outside of Europe."
Norwegian manufacturer Nel has built a fully automated factory in Herøya in southeast Norway producing 500MW of electrolysers annually, and plans to double its capacity by early 2024.
Fellow Norwegian electrolyser maker HydrogenPro also has a base in the relatively small industrial area of Herøya, but has set up manufacturing facilities in Tianjin, China, from where it recently imported what it called "the world's largest electrolyser".
Belgium's John Cockerill — the world's leading electrolyser maker by sales last year — also manufactures electrolysers in China through a joint venture called Cockerill Jingli Hydrogen. And US-based Cummins, which manufactures electrolysers in Belgium, this year announced a joint venture with Chinese state-owned oil giant Sinopec to build a 1GW electrolyser factory in Guangdong province.
India is also emerging as a centre for electrolyser manufacturing, with 8GW of factories due to come on line by 2025, with John Cockerill also building a 2GW plant in the country, in partnership with local company Greenko.
In the global race to develop the best and most profitable hydrogen industries, Europe must take action to keep its head start - or risk increased competition from a fast-moving Asian sector, according to Volldal.
"Asia is always difficult to predict. They have their starting problems where products are often not good enough, but they learn quickly and are willing to take a risk. And they have a tremendous pace."
US ahead of EU
Volldal believes the US is taking a global lead with its Inflation Reduction Act bill — the flagship legislation offering up a maximum $3/kg hydrogen tax credit that can effectively make US green H2 the cheapest form of hydrogen globally.
This is a big part of why Nel is now looking to build its next factory in the US, and not in the EU.
"As it takes time in the EU to decide on regulations and packages, the most likely option for us is that the next gigafactory will be built in the US to serve the North American market," he tells Hydrogen Insight. "And that the following factory could be built in the EU. But whether we will build it in the EU or elsewhere depends on where the customers are, as well as the subsidies available — making sure we don't compete with companies getting a lot of support while we are carrying our investments on our equity."
Nel disclosed its plans for a US gigafactory earlier this year, and reveals to Hydrogen Insight that a final investment decision on the facility is expected during the first half of 2023.
In the past few months, Nel has announced its two largest ever contracts — both for the US market. The first was a 200MW electrolyser order from an unnamed US developer. And in October, the company announced a $56m order, which Hydrogen Insight understands to be about 150-170MW of alkaline electrolysers.