German electrolyser maker Sunfire may soon be valued at more than €1bn ($1.06bn) after a new €200m financing round, according to respected daily business newspaper Handelsblatt.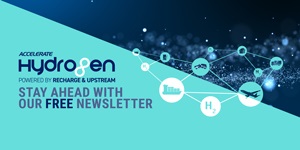 Hydrogen: hype, hope and the hard truths around its role in the energy transition
Will hydrogen be the skeleton key to unlock a carbon-neutral world? Subscribe to the weekly Hydrogen Insight newsletter and get the evidence-based market insight you need for this rapidly evolving global market
Sunfire — which produces both solid-oxide and pressurised alkaline electrolysers — is in talks with investors about the funding, which, if secured, would effectively set the company's worth at over €1bn, said the German publication, citing "financial circles".
"With regard to our further financing, we currently have nothing to announce. Of course, as a rapidly growing company, we are in constant contact with investors," a Sunfire spokesperson told Handelsblatt.
The company closed a €195m Series D funding round in March last year, which followed a €109m capital raise in October 2021. According to market analyst Pitchbook, last year's funding already gave Sunfire a valuation of $1.7bn.
The Dresden-based company was launched in 2010 and was a pioneer in high-temperature solid-oxide electrolysers (SOE) — which can produce up to 30% more hydrogen per kWh of electricity than alkaline or PEM machines when utilising waste heat from industrial processes.
Other companies have, however, caught up, with Bloom Energy in the US already having an SOE production capacity of 2GW, and Topsoe building a 500MW SOE factory in Denmark and sealing a 5GW order from US company First Ammonia.
Sunfire acquired alkaline electrolysis company IHT in 2020, and is due to complete a 500MW pressurised alkaline electrolyser factory in Germany this year, which would make it the joint 15th-largest manufacturer (of alkaline or PEM electrolysers) in the world, according to research house BloombergNEF.
Pressurised alkaline electrolysers are said to be as efficient and able to quickly ramp up and down in line with variable renewables supply as PEM machines, but cheaper to produce, without the need for expensive iridium and platinum catalysts.