Cost overruns, delays and profit warnings made UK electrolyser manufacturer ITM Power's share price plunge last year — and investors seem to believe the crisis is not over yet.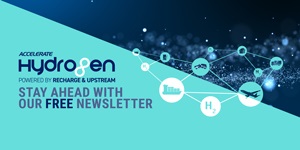 Hydrogen: hype, hope and the hard truths around its role in the energy transition
Will hydrogen be the skeleton key to unlock a carbon-neutral world? Subscribe to the weekly Hydrogen Insight newsletter and get the evidence-based market insight you need for this rapidly evolving global market
Now, the company is the most shorted stock on London Stock Exchange, according to the Financial Times, citing markets data firm ADVFN, meaning short sellers are speculating on the continued decline of the share price, in which case they will profit on the net difference from today's share price.
Even after declining from a market capitalisation of £3.5bn ($4.2bn) in early 2021 to £600m today, the stock is still too high, with an "insane valuation", Renaud Saleur, head of Anaconda Invest, told the FT.
After years with expansion strategies and ambitious scale-up plans, while transitioning from a company in a research and development phase to a large volume manufacturer, the company last year had to put on hold a second manufacturing plant in the UK that they had raised money for.
The company's new chief executive Dennis Schulz, previously managing director at Linde Engineering, said he was "shocked" to see the portfolio of the company when he joined, and is reducing its products range from 16 to three, focusing on the stack — the core part of the electrolyser that splits water molecules into hydrogen and oxygen. The 2MW MEP 30-bar stack platform and the Plug and Play-containers survived the portfolio cuts.
"ITM was constantly in that mode of constantly fighting or putting out fires, which were emerging everywhere," Schulz tells the FT. "Now we are slowing down and not looking for short-term fixes."
Graham Cooley, the company's chief executive for almost 14 years, stepped down last December.
ITM Power was the first hydrogen-related company publicly listed on the London Stock Exchange.