Belgian manufacturer John Cockerill has announced plans to build a new electrolyser factory in Morocco, which would be the first in Africa.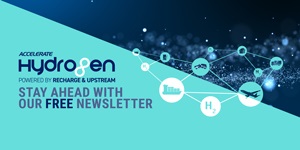 Hydrogen: hype, hope and the hard truths around its role in the energy transition
Will hydrogen be the skeleton key to unlock a carbon-neutral world? Subscribe to the weekly Hydrogen Insight newsletter and get the evidence-based market insight you need for this rapidly evolving global market
The company says it has reached a strategic agreement with an unnamed "leading Moroccan energy company" to build the alkaline electrolyser plant as part of a new joint venture.
"The joint venture will have large-scale manufacturing capabilities for high-powered alkaline electrolysers (5MW+/stack electrolyser) that will also enable the production of green hydrogen at the best price," said a statement from John Cockerill, which was the global market leader in electrolyser sales in 2021, according to research house BloombergNEF.
In May last year, Hydrogen Insight's sister publication Recharge exclusively revealed that John Cockerill planned to expand its annual electrolyser production to 8GW by 2025.
At the time, the company said it would build 1GW of capacity in France, 2GW in India, 2GW in China, 1GW in the Middle East, another 1GW in Europe and a further 1GW in an undisclosed region — which now appears to have been revealed as Morocco.
Among its competitors, only Norway's Nel has announced plans for a larger annual production capacity by 2025, with 10GW.
The new joint venture will also offer "integrated green hydrogen solutions" in Morocco, which plans to become a major exporter of green hydrogen in the coming years and decades.
"The agreement signed aims in particular at the creation of a gigafactory dedicated to the manufacture of electrolysers for the creation of an integrated green hydrogen industry in Morocco," said the statement.
"From this plant, John Cockerill and its partner will jointly develop a value chain dedicated to green hydrogen in Morocco, allowing at the same time the development of local expertise and jobs in this field."
Raphaël Tilot, executive chairman of John Cockerill Hydrogen added: "We are honored to be able to contribute to the energy transition in Morocco. Just like the Kingdom's great successes in the aerospace and automotive industries, we are determined to establish such a local ecosystem around hydrogen technologies together."
John Cockerill is a mechanical engineering group that was formed in 1825 and is named after its English founder.