The partners behind the giant 2.2GW Neom green hydrogen and ammonia export scheme will send their output to countries with "less onerous" carbon intensity regulations if it finds it is falling foul of European rules, the project's chief executive has said.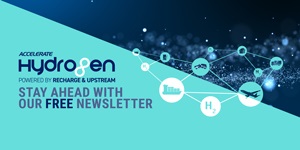 Hydrogen: hype, hope and the hard truths around its role in the energy transition
Will hydrogen be the skeleton key to unlock a carbon-neutral world? Subscribe to the weekly Hydrogen Insight newsletter and get the evidence-based market insight you need for this rapidly evolving global market
David Edmondson, CEO of the Neom Green Hydrogen Company, stressed that he expects this to apply only in "some cases", especially when the project's ammonia production facility has to rely on grid electricity.
"There are less restrictions in other parts of the world [compared to Europe]," he told delegates at the Reuters Hydrogen 2023 conference in Amsterdam today (Tuesday). "It may be easier in some cases, to sell some of the product to a different jurisdiction if it becomes too onerous."
Neom nevertheless expects to be typically able to meet the EU's low-carbon hydrogen emissions standard of 3.38gCO2/kg, as well as the UK's 2.4gCO2/kg equivalent, enabling its equity partner and offtaker Air Products to supply green H2 to European customers.
In fact, the project has been designed specifically to meet European regulations, with all of the project's 2.2GW electrolyser capacity connected exclusively to a 4.6GW wind and solar supply.
It has also incorporated 22 hydrogen storage "bullets" — long storage containers that can hold pressurised H2 — and some battery storage.
"There are some nuances in the way we've configured it, and that's to address some of the [Renewable Energy Directive II] issues," he said. "There is no grid power attached to the electrolysers. It has to be 100% renewable."
He added: "We've also got there as back up partial battery storage but we don't want too much of that because that adds cost."
Under the proposed Delegated Act within the EU's Renewable Energy Directive II (RED II) rules, hydrogen cannot be classified as green unless it is powered by a dedicated renewables supply that can match any grid electricity it uses on a monthly basis, or is located in a bidding area where clean electricity makes up 90% of the power mix.
The 300sq km Neom project will be serviced by a 180km private grid that will move electrons from the renewables supply to the electrolysers.
The project intends to use the dedicated renewables to power the ammonia project as well, but Edmonson was clear that this might not always be possible.
"The intent is to produce zero-carbon-intensity hydrogen at the [export] jetty," he told the audience in Amsterdam. "The reality is that there will be some element of grid power, because we have that for emergency purposes."
Neom will also use desalinated water in the electrolysers, which will at first be produced in a local desalination plant partially powered by the grid, which will add to the carbon intensity of the project.
The Neom Green Hydrogen Company is jointly owned by the Saudi state, US industrial gases firm Air Products and Saudi renewables developer ACWA Power.
Air Products, the project's sole offtaker, intends to export the project's hydrogen as green ammonia, before converting it back to hydrogen in the destination country for use in the transport market.
"Most of the increased carbon intensity from the shipping point at the jetty to the receiving terminal, where we break that down into hydrogen again, which add more carbon intensity," said Edmonson. "But that still keeps us well below the target of the Europeans."