California-based Bloom Energy has become the world's largest electrolyser maker by manufacturing capacity after inaugurating a new 1GW production line at its plant in Newark, Delaware.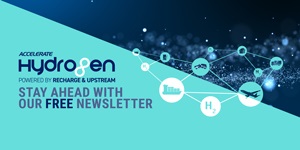 Hydrogen: hype, hope and the hard truths around its role in the energy transition
Will hydrogen be the skeleton key to unlock a carbon-neutral world? Subscribe to the weekly Hydrogen Insight newsletter and get the evidence-based market insight you need for this rapidly evolving global market
The company says it now has a total annual electrolyser manufacturing capacity of 2GW a year — which, according to analyst Rystad Energy is double that of its nearest rival. However, while the new production line is already in operation, it is not yet operating at full capacity.
Many electrolyser makers have announced plans to expand their yearly output to multiple gigawatts, but in terms of current production capacity, Thyssenkrupp and Bloom are the only manufacturers to have yet reached giga-scale, according to Rystad. US/Indian producer Ohmium has said it will reach 2GW of electrolyser capacity by the end of this year, with all the required financing in place.
Thyssenkrupp currently operates 1GW of electrolyser manufacturing, followed by Norway's Nel (550MW), and China's Longi, America's Plug Power and Ohmium (all on 500MW), Rystad tells Hydrogen Insight.
Bloom — better known as a fuel-cell manufacturer — only unveiled its high-temperature solid-oxide electrolyser (SOE) in July last year, but already had 1GW of production capacity in place before the new announcement.
Yet it only made its first electrolyser sale — a 10MW order from US chemicals producer LSB Industries — in May this year. Since then, it has only announced further deployment of 240kW for a pilot at Xcel Energy's Prairie Island nuclear facility in Minnesota, but gigawatts of new green hydrogen projects are expected to be signed off in the coming years when the new US hydrogen tax credits kick in.
By comparison, Danish manufacturer Topsoe, which also makes SOEs, has already sealed a deal to supply 5GW of its electrolysers to New York-based start-up First Ammonia, which is backed by a $5.5bn hedge fund.
Bloom says its high-temperature SOE requires 15% less electricity to produce the same amount of hydrogen as low-temperature alkaline and PEM electrolysers, when power is the sole input. But that this can increase to 45% when integrated with external heat sources.
Earlier this week, Rystad analyst Lein Mann Bergsmark told Hydrogen Insight that electrolyser makers that expand too quickly run the risk of going bankrupt by overextending themselves financially.
According to Bloom's latest published financial results, it made a $118.8m operating loss in the second quarter, adding to combined losses of $132.2m in the previous two quarters (under generally accepted accounting principles).
However, Bloom is due to publish its third-quarter financial results on 3 November.
Bergsmark also told Hydrogen Insight that H2 developers currently prefer more mature electrolyser technologies such as alkaline and PEM, rather than SOEs.
"These types of electrolyzers [SOEs] are considered "emerging technologies", and while they could offer better efficiencies — less use of renewable energy — the capex is much higher and the preferences today goes more to Alkaline and PEM electrolysers, so they do not really compete with, eg, Thyssenkrupp and Nel."