Danish electrolyser manufacturer Topsoe plans to spend $300m on a new electrolyser factory of "at least" 500MW in the US — with the potential to eventually scale it up to 5GW — as part of an effort to grab a slice of the country's expected subsidy-driven growth in green hydrogen production.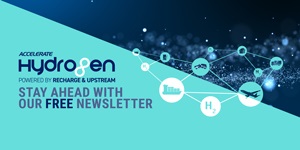 Hydrogen: hype, hope and the hard truths around its role in the energy transition
Will hydrogen be the skeleton key to unlock a carbon-neutral world? Subscribe to the weekly Hydrogen Insight newsletter and get the evidence-based market insight you need for this rapidly evolving global market
Topsoe could reach a final investment decision (FID) on the project — its major electrolyser factory outside Denmark — by the end of this year, with the aim of using the facility to make its flagship solid-oxide electrolysers (SOEs), the company told Hydrogen Insight.
If fully realised, the project would effectively double Topsoe's global electrolyser manufacturing capacity. The company is currently building the first 500MW stage of its electrolyser gigafactory in Herning, Denmark — a project that it also intends to eventually scale up to 5GW.
The company is yet to settle on a site for the US factory, but a spokesperson for the company said it is in discussion with a number of potential customers and local officials to determine the best location.
Topsoe is just the latest company to switch its attention to the US market in the wake of the massive growth expected as a result of the Inflation Reduction Act (IRA), which offers a maximum production tax credit of $3/kg for green hydrogen production.
The company wants to cater for an expected uptick in demand for electrolysers expected in the coming years, once the subsidies start flowing.
"The Inflation Reduction Act came out not that long ago and that immediately prompted us to start looking in the US," Topsoe CEO Roeland Baan told Bloomberg this week. "We need to be there. We need to have a production facility to cater to customers there."
Norway's Nel recently went through a similar round of negotiations on locating a suitable site for its 4GW US electrolyser factory — having announced a pivot to North America just days after the IRA was passed — before eventually deciding on Michigan. Nel is also expanding its 50MW plant in Wallingford, Connecticut to 500MW.
Topsoe will likely be gunning for a slice of demand for green hydrogen projects in the US's hard-to-abate sectors — such as the production of low-carbon steel, chemicals, refining and green ammonia — for which the company's high-temperature SOE technology is best suited.
Operating at temperatures in excess of 700°C and able to use waste heat from industrial processes, SOEs have significantly higher efficiencies than alkaline on proton exchange membrane (PEM) equivalents, using far less electricity per kg of H2 produced.
This is pertinent as electricity accounts for about 70% of green hydrogen production costs — and SOEs could carry even more appeal in regions with high power prices.
Topsoe said in a recent interview with Hydrogen Insight that the operating expenditure for SOEs are lower than alkaline and PEM, even though operators will need to change the stack (the part of the unit where the electrochemical reaction takes place) more often.
But these high efficiency levels and low opex come with a massive price tag: the capex costs on SOEs are around seven times' that of alkaline electrolysers, and five times that of PEM, according to 2020 estimates from the International Renewable Energy Agency.