UK electrolyser maker ITM Power has announced a major change of strategy just two months after new CEO Dennis Schulz joined the company, revealing what it sees as a series of mistakes made under his predecessor Graham Cooley that resulted in "unrealistic targets for project completion" and an "unacceptable financial performance".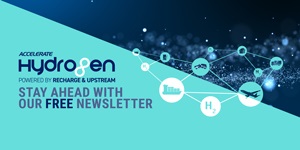 Hydrogen: hype, hope and the hard truths around its role in the energy transition
Will hydrogen be the skeleton key to unlock a carbon-neutral world? Subscribe to the weekly Hydrogen Insight newsletter and get the evidence-based market insight you need for this rapidly evolving global market
ITM now plans to "stop the financial bleeding" by cutting its staff headcount by 25%, exiting its hydrogen refuelling joint venture (JV) and reducing its electrolyser offering to "a core product suite" while "professionalising" its manufacturing capabilities.
"We raised capital to pursue an expansion strategy and in doing so underestimated the competencies and capabilities required to scale up and to transition from an R&D company to a volume manufacturer," admitted chairman Sir Roger Bone.
"As a consequence, we set unrealistic targets for project completion. This has produced an unacceptable financial performance."
200MW order
There was some good news though too, with ITM revealing it had sold two 100MW electrolysers to Linde Engineering — where Schulz was managing director until joining ITM on 1 December last year — which will be installed at RWE's GET H2 Nukleus project in Lingen, Germany, and powered by offshore wind.
"The plants are the largest PEM electrolysers under execution worldwide," said ITM, adding that delivery of the equipment "will represent a key milestone on ITM Power's journey towards high volume manufacturing of an industrialised product."
The GET H2 Nukleus project aims to eventually produce 300MW of green hydrogen at RWE's gas-fired power plant in Lower Saxony, and convert existing gas pipelines to deliver 100% renewable H2 to industrial users, including a BP refinery and a chemical park.
ITM has a joint venture with Linde Engineering called ITM Linde Electrolysis, which focuses on providing green hydrogen solutions, including applications downstream of the electrolyser.
New strategy
In a presentation call this morning, Schulz — previously managing director at Linde Engineering —admitted that he had been surprised to learn about ITM's broad portfolio of products: "This was a bit shocking to me when I joined, it is a lot to focus on."
He now wants the company to focus from 15 offerings to two core products — the 2MW MEP 30-bar stack platform and the Plug and Play containers.
"Today our product suite is too wide. The services we provide to support older generation technologies are disruptive to our manufacturing process and have become too costly," said the company.
"It is common for a growing technology company developing first-of-a-kind products which need to be manufactured at scale, to be loss making. However, our cost discipline has not been rigorous enough. Constant design changes led to unwelcomed inventory write-downs. In addition, delays in project deliveries caused excessive consumption of working hours.
"Finally, an overly-optimistic recruitment programme has led to organisational overcapacity. We will address the underlying causes of these issues as three parts of a 12-month priorities plan."
It anticipates reducing the company headcount by 25%, leading to a 30% cost reduction, or £9m ($11m) in annual savings.
"We need to transform ITM from an R&D culture company to a professional and credible delivery organisation ready for volume manufacturing — sustainably growing into a profitable business," said Schulz.
"Most issues today arise from immature engineering processes, which materialise during manufacturing and lead to project delays and cost overruns. As one key priority, we will change the way we engineer our products and control design changes."
This includes increasing automation at its 1GW factory in Sheffield, northern England.
"Looking ahead, automation will play an important role in optimising build quality, reducing manufacturing costs, accelerating output and reducing delivery lead times," the company said.
In the presentation, it gave an example of automating screen printing of catalysts onto the electrolysers' membrane, which will reduce the cycle time from ten minutes to six seconds.
ITM has also unveiled plans to make additional space for a dedicated research and development and product validation centre, with a decision expected in the first quarter of 2023.
Hydrogen refuelling
And the company revealed that it wants to exit its Motive Fuels hydrogen refuelling joint venture with Vitol, with "options to be considered by the shareholders rang[ing] from the sale of the business to discontinuing activities".
"The vision of the JV partners was one of building a significant UK refuelling business, with £30m committed by each party as seed funding to be geared to create a refuelling network," ITM said.
"However, the landscape has changed since the establishment of the joint venture, with lower availability of heavy-duty hydrogen vehicles than originally anticipated adversely affecting fuelling asset utilisation.
"ITM expects to save £28m of the original committed sum, which will support the core business of electrolyser manufacturing."
Motive currently operates four hydrogen filling stations in the UK. It had been seven until Shell quietly closed its three H2 pumps last year — as exclusively revealed by Hydrogen Insight.
Financial losses
ITM also revealed interim results for the six months up to 31 October 2022, revealing only £2m of revenue, a gross loss of £45.6m and an adjusted Ebitda loss of £54.1m.
And its guidance for the 2023 financial year is even worse, with another £2m of revenue, and adjusted Ebitda losses of £85m-95m.
However, net cash at the end of the 12-month period is expected to be £245m-270m, thanks to the £242m raised in November 2021.
"Our balance sheet remains strong, with net cash at the year-end expected to be in the range of £245m to £270m. Capital discipline and rigour will be at the heart of every spending decision that we take."
ITM shares rose upon today's news — from £0.87 at the start of the day to £0.95 at the time of going to press — an increase of more than 7%.
However, this is still a far cry from its record high of £6.82 seen in early 2021, and the £3.94 at the end of 2021.