US-based Bloom Energy says it has installed the world's largest solid-oxide electrolyser (SOE) at a Nasa research facility in California — and that the 4MW unit will produce 20-25% more hydrogen per megawatt than any commercially demonstrated alkaline or PEM equivalent.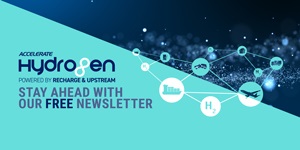 Hydrogen: hype, hope and the hard truths around its role in the energy transition
Will hydrogen be the skeleton key to unlock a carbon-neutral world? Subscribe to the weekly Hydrogen Insight newsletter and get the evidence-based market insight you need for this rapidly evolving global market
The previous record for the largest SOE was only broken last month, with a 2.6MW unit in Rotterdam manufactured by Germany's Sunfire.
"Solid oxide electrolyzers offer inherently superior technology and economic advantages," said Bloom founder and CEO KR Sridhar.
"Bloom Energy, as the global leader in solid oxide technology, is proud to share this exciting demonstration with the world: our product is ready for prime time."
The 4MW unit will be able to produce more than 2.4 tonnes of hydrogen a day.
SOEs operate at high temperatures, and when tapping into an external heat source, require less electricity to produce the same amount of hydrogen as equivalent alkaline or PEM electrolysers, which operate at low temperatures.
Results of a recent 100kW demonstration project showed that Bloom's SOE — when using an external source of high-temperature steam — can produce one kilogram of hydrogen with just 37.7kWh of electricity.
The benchmark for an efficient alkaline or PEM electrolyser is 50kWh of electricity per kgH2 — almost 25% higher.
As about 70-80% of the cost of electrolytic hydrogen is determined by the price of the electricity used, an SOE using otherwise wasted heat can theoretically produce hydrogen about 20% more cheaply than alkaline or PEM — although SOEs are said to have shorter lifetimes.
Bloom Energy currently has the world's largest annual manufacturing capacity of any electrolyser maker, with 2GW combined at its plants in California and Delaware, although it is not known how much of this is actually being used today for production.
Coincidentally, Bloom Energy was founded in 2001 after Sridhar and his team were tasked by Nasa with developing electrolysers that could produce oxygen and fuel from solar power and water on Mars.
The Ames Research Center, where the new 4MW electrolyser has been installed, was where Sridhar's team first tested the equipment more than 20 years ago.