The EU has announced a major new multi billion-euro funding initiative for European hydrogen that will see up to €3bn ($3bn) allocated for schemes across the entire hydrogen value chain, including electrolyser manufacture, renewables components and green H2 production in heavy industry.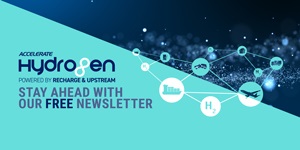 Hydrogen: hype, hope and the hard truths around its role in the energy transition
Will hydrogen be the skeleton key to unlock a carbon-neutral world? Subscribe to the weekly Hydrogen Insight newsletter and get the evidence-based market insight you need for this rapidly evolving global market
Frans Timmermans, executive vice president of the European Commission (EC) and the bloc's lead on the European Green Deal, told delegates at European Hydrogen Week in Brussels yesterday that the cash, made available by the EU's €38bn Innovation Fund, would "cement the role of hydrogen and our strategy to move away from Russian fossil fuels".
And the EU isn't wasting any time in distributing the cash. A funding call for the new initiative will launch next week on 3 November, with a view to accelerating progress towards the EU's REPowerEU goals — including its target of producing 10 million tonnes of hydrogen per year.
Further funding from the European Hydrogen Bank will be available next year in the form of a contracts for difference scheme that will make the market price of green hydrogen competitive with fossil fuel-derived grey H2, Timmermans added (see separate story).
Funding stream
Around €1bn of November's funding call will be allocated to will go to projects aiming to decarbonise heavy industry — mostly likely green steel, ammonia and chemicals production — including renewable hydrogen production and use.
"Under this window we will welcome projects on both direct and indirect electrification of industrial processes, as well as production of renewable hydrogen," Timmermans said.
€700m will be made available for manufacture of key components for renewable energy, energy storage and renewable hydrogen, such as PV cells and electrolysers. Here, the EU is looking to upscale existing manufacturing capability, Timmermans noted.
A further €300m will be used for mid-sized pilot projects with "deep decarbonisation potential".
An additional €1bn will go to general decarbonisation projects, namely in renewable energy, energy-intensive industries and energy storage or carbon capture.
"I want to really strongly encourage you to make good use of these opportunities to move ahead with your projects," Timmermans told the audience in Brussels. "This is a serious financial commitment."
Launched in May this year, REPowerEU is Brussels' plan to help wean Europe off Russian fossil fuels, with a target of producing ten million tonnes of green hydrogen by 2030, and importing a further ten million tonnes. The combined 20 million tonnes would require approximately 600GW of new wind and solar power – more than the bloc's entire installed renewable capacity in 2021 — and 200GW of electrolysers.
This article has been updated with additional information on the funding call from the EU Commission Wednesday afternoon.