It is often said that the clean hydrogen sector exists more in theory than in practice, with hundreds of gigawatts of green and blue H2 projects announced, but few developments under way and even fewer completed.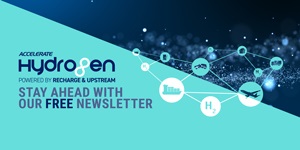 Hydrogen: hype, hope and the hard truths around its role in the energy transition
Will hydrogen be the skeleton key to unlock a carbon-neutral world? Subscribe to the weekly Hydrogen Insight newsletter and get the evidence-based market insight you need for this rapidly evolving global market
Another common refrain is about the sector's "chicken and egg" problem — that developer do not want to take final investment decisions on new clean hydrogen projects without having buyers lined up, and buyers do not want to commit to purchasing clean H2 until the supply is available.
A further complication, of course, is that many developers are waiting to see if they will be able to get government subsidies before proceeding with their plans.
However, some companies have already begun to put their money where there mouths are, and have already signed firm contracts to purchase clean hydrogen at scale — mainly from projects that have not yet even started construction, or have not yet reached a final investment decision.
Oslo-based analyst Rystad Energy has compiled a list of the top clean hydrogen offtakers in the world by announced projects. These are defined as projects with firm, signed hydrogen purchase agreements (HPAs) where locations for production facilities have already been secured.
The majority of these buyers are already major users of dirty grey hydrogen produced from unabated fossil gas — and their interest in green H2 peaked last year when natural-gas prices rose to record highs, pushing up the cost of grey H2.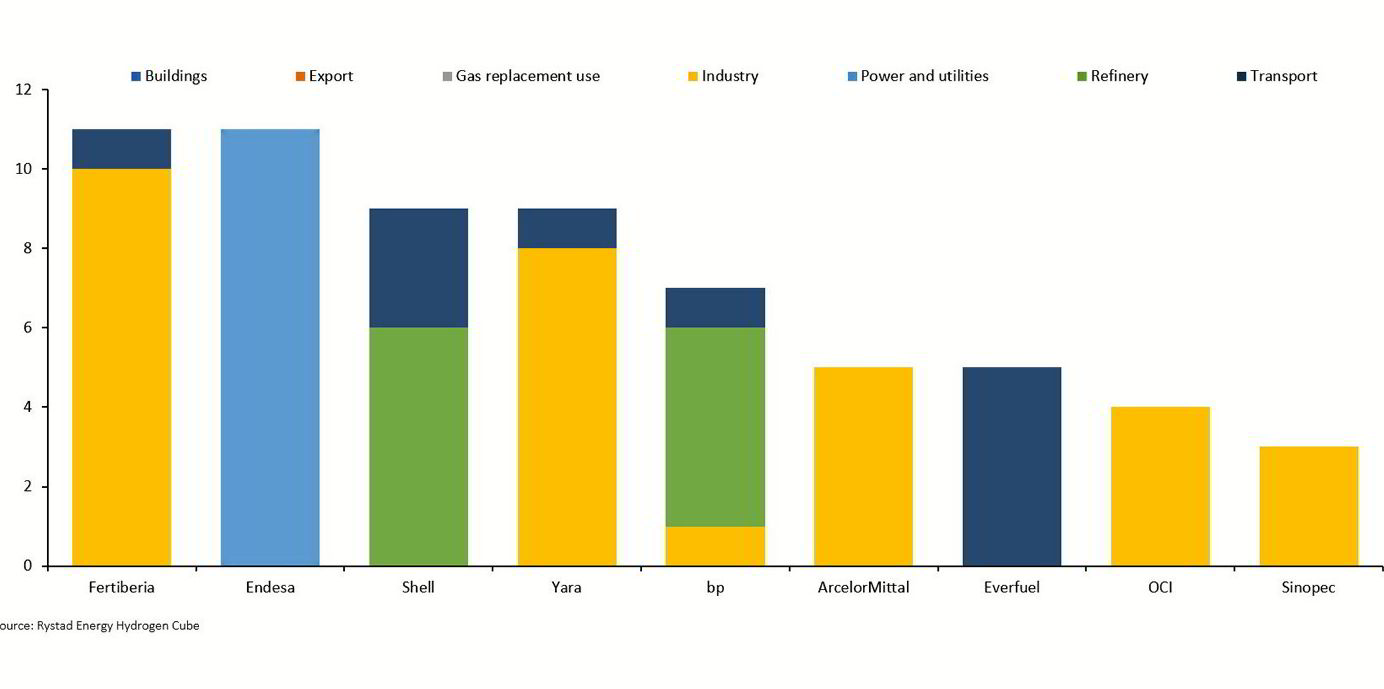 "We see that most of these advanced agreements are geared towards existing hydrogen use, which will help decarbonize these applications. Plans for other uses such as mobility, shipping, power generation, and other new demand are still at a very early stage", Minh Khoi Le, head of hydrogen research at Rystad tells Hydrogen Insight.
"It makes sense, and it could create a market where hydrogen offtake could first be centered around existing industrial players, and excess hydrogen from this could then be used for additional applications.
"It is likely that other uses, such as heavy-duty transportation and power generation, will come along on the back of the clean-hydrogen production scale-up for industrial applications."
Here are the top offtakers of green and blue hydrogen projects, according to Rystad:
=1) Fertiberia - 11 HPAs (hydrogen purchase agreements)
Spanish fertiliser maker Fertiberia has secured 11 hydrogen purchase contracts, ten for green ammonia production — often scooping up the entire output of a plant — and one for transport fuel.
This includes the Puertollano plant in Spain, with a planned production capacity of more than 200,000 tonnes of green hydrogen per year, which was commissioned last year. The plant was built by Spanish utility Iberdrola, and all the production is reserved for Fertiberia's local ammonia plant.
=1) Endesa - 11 HPAs
Spanish electricity utility Endesa, owned by Italy's Enel, is closing down its coal-based plants and converting them into green hydrogen power plants. The company has secured a total of 11 H2 supply deals, which will be used for "power and utilities", according to Rystad.
=3) Shell - 9 HPAs
Six of Shell's hydrogen offtake deals will be used to replace grey H2 used in existing oil refineries, with the most noteworthy project being the oil giant's own Holland 1 hydrogen plant in Rotterdam, which will produce green H2 from offshore wind.
It took a final investment decision on the 200MW facility in July 2022, with plans for it to begin operations in 2025.
Shell has also secured hydrogen deliveries for transport from three projects — although Hydrogen Insight revealed last year that the company had quietly closed down all its hydrogen filling stations in the UK.
=3) Yara - 9 HPAs
Fertiliser maker Yara has secured the output from eight clean-hydrogen assets to replace grey H2 in its existing ammonia production.
The Norwegian company reduced its ammonia output in Europe by 65% last year in the wake of record high natural-gas prices, which is one of the reasons it is so bullish about NH3 made from green H2. It has already established a unit called Yara Clean Ammonia, to enable the production of carbon-free food production and emission-free fuel for shipping.
Among the projects with HPAs is the Yuri green hydrogen project in Western Australia, being built by developer Engie, where the final investment decision was confirmed in September 2022.
The first phase of that project will produce up to 640 tonnes of green hydrogen per year as feedstick for Yara's nearby ammonia production plant.
5) BP - 7 HPAs

Oil major BP has, like Shell, secured several clean-hydrogen assets to reduce grey hydrogen use at its refineries. The UK-based corporation has also taken the lead role in one of the world's most ambitious hydrogen projects, the $36bn Asian Renewable Energy Hub in Australia, with an electrolyser capacity of 14GW.
6) ArcelorMittal - 5 HPAs
Luxembourg-headquartered steel producer ArcelorMittal has secured five hydrogen offtake agreements, including a sizeable chunk of the 200,000 tonnes a year due to be produced by 2026 at Spain's HyDeal España green H2 project — for which it is also a co-developer.
7) Everfuel - 5 HPAs
Danish green fuel company Everfuel is the only one on this list to have secured hydrogen deliveries for transport purposes only. Among its suppliers is the HySynergy project in Denmark, which began producing its first test volumes of hydrogen in December 2022, before scaling up production to 300MW by the end of 2025.
8) OCI - 4 HPAs
OCI, a Dutch producer and distributor of ammonia fertiliser and methanol, has secured four hydrogen offtake deals to reduce its use of grey H2 derived from natural gas at its factories. Last year, the company announced it wanted to buy hydrogen from the 10GW NortH2 offshore wind/hydrogen project in the Dutch North Sea project by the NorthH2 consortium — but exact volumes have not yet been agreed.
9.Sinopec - 3 HPAs
Chinese oil giant Sinopec has secured three clean hydrogen offtake deals in China, which Rystad says will be used for industrial purposes.
The state-owned company is already building the world's currently largest renewable hydrogen plant — a 260MW facility in Kuqa, Xinjiang province, due to be completed around the middle of 2023, although doubts have emerged over how green the plant will truly be.
Sinopec has said it wants to produce more than two million tonnes of green H2 annually by 2025, and recently announced a plan to build a $2.8bn green hydrogen plant in Inner Mongolia with a 400km pipeline to its petrochemical complex in Beijing.