Pioneering Swedish company H2 Green Steel (H2GS) has signed three supply contracts totalling more than €2bn, in a move that arguably marks the commercialisation of the nascent use of green-hydrogen in the steelmaking process.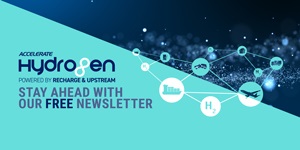 Hydrogen: hype, hope and the hard truths around its role in the energy transition
Will hydrogen be the skeleton key to unlock a carbon-neutral world? Subscribe to the weekly Hydrogen Insight newsletter and get the evidence-based market insight you need for this rapidly evolving global market
H2GS will use renewable energy and at least 1GW of electrolysers in Boden, northern Sweden, to produce green hydrogen that will then be used to extract iron from ore, in a process that until now has required coking coal or natural gas, resulting in huge amounts of CO2 emissions.
Renewable energy will also be used to power the rest of the steelmaking process, with waste heat used in district heating.
H2GS has signed a seven-year supply agreement worth about €1.79bn ($1.96bn) with Italian steel manufacturer Marcegaglia Steel — an investor in H2GS, and last week, it signed a €125m five-year supply deal with UK-based SPM (Steel Processing Midlands).
The previous week, it signed a seven-year supply agreement with Germany's Bilstein Group valued at more than €250m.
Speaking about the Marcegaglia deal, H2GS CEO Henrik Henriksson said: "This is a very milestone agreement for us at H2 Green Steel and a real celebration on our journey.
"Not only for the value of about €1.79 billion, but also because of the quality player that Marcegaglia is in the steel industry."
Marcegaglia, a family-owned company, has 37 steel plants across three continents, producing steel for construction, pipes, guardrails and other uses, but the green steel will be supplied to its facilities in southern Europe, the UK and Poland.
Privately owned SPM will secure 25% of its future annual steel demand in the deal.
"Green steel is undeniably the future," said SPM commercial director Nick Liggins. "It is the biggest change this industry has seen in a century and the speed of change is faster than many expect.
"As the cost of emissions start to impact traditionally made steel, green steel will fast become commercially the better option of the two, as governments drive companies towards CO2 reductions.
"We encourage others to reach out and join us on this decarbonization journey of the steel value chain and believe that companies who embrace this change early will have an advantage in their sector, particularly as demand for these products could outstrip supply in the next 5 years."
H2GS said it planned to start supplying green steel to Bilstein in 2026, but there is no mention of when Marcegaglia or SPM would receive their shipments.
Construction of a "modern and fully digitalised steel plant" has begun in northern Sweden, but H2GS stated last summer that production will be "up and running as early as 2025", with annual production of five million tonnes of steel "before 2030".
"H2 Green Steel came in as a challenger in a traditional market a couple of years ago, and have proven with speed, perseverance, and a great team that they are a force to be reckoned with," said Marcegaglia CEO Antonio Marcegaglia.
"We believe in the partnership approach in business, and we took this approach from day one with H2 Green Steel as they are a key player for us on our decarbonization journey which is essentially all about future-proofing our business."
Bilstein CEO Marc Oehler added: "The ambitious positioning of H2 Green Steel with the aim of producing CO2-neutral steel as quickly as possible and setting up a greenfield project with an optimum process chain and state-of-the-art technology within a short time has thrilled us right from the beginning.
"The contract now signed is an important milestone for our company on the way to significantly reducing our carbon footprint as quickly as possible and ensuring that a large part of our raw material sourcing is 'green' by the end of the decade."