Saudi government-affiliated developer ACWA Power has inked an $88m 15-year deal to sell green hydrogen to Uzbek state chemicals company Uzkimyosanoat, with the renewable H2 displacing polluting grey hydrogen from an existing ammonia facility in the central Asian nation.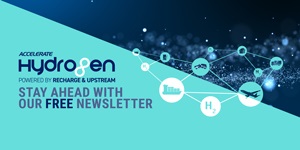 Hydrogen: hype, hope and the hard truths around its role in the energy transition
Will hydrogen be the skeleton key to unlock a carbon-neutral world? Subscribe to the weekly Hydrogen Insight newsletter and get the evidence-based market insight you need for this rapidly evolving global market
Under the terms of the hydrogen purchase agreement (HPA), announced yesterday (Thursday), ACWA Power will source the H2 from its planned 3,000 tonnes-per-year green hydrogen project in Chirchiq, Uzbekistan.
ACWA, which is 50% owned by Saudi Arabia's sovereign wealth fund PIF, has also signed a 25-year power purchase agreement (PPA) with the Uzbek national power grid for 52-100MW of renewable electricity. Hydrogen Insight has reached out for clarification on the terms of these agreements.
The Saudi firm announced at the beginning of this year it had signed a heads of terms agreement with Uzkimyosanoat and the Uzbek energy ministry to develop the green hydrogen project on "an accelerated development timeline", with commissioning expected in December 2024.
ACWA will also conduct a feasibility study for the development of a proposed 500,000 tonnes-per-year green ammonia complex, which it estimates could reduce Uzbekistan's fossil gas consumption by 600 million cubic meters annually — potentially freeing up the country's substantial fossil gas production for export as high-value condensate.
The country also targets 35% of its electricity — currently generated primarily from gas — to come from renewable resources by 2030, equivalent to around 15GW of capacity.
ACWA is one of the co-developers behind Saudi Arabia's flagship 2GW Neom green hydrogen and ammonia complex, one of the few gigawatt-scale projects to have secured the necessary financing to proceed. The facility is due to start up in 2026, with its offtaker Air Products — which has a 33.3% stake in the plant — planning to distribute the ammonia to global demand centres and crack it back to hydrogen.
The Saudi firm also agreed in March to invest $2.5bn to develop 1.4GW of solar PV and 1.5GWh of battery storage in the Uzbek cities of Tashkent, Samarkand, and Bukhara.