The forthcoming US hydrogen tax credits of up to $3/kg will make steel produced using green H2 the cheapest type of steel in the US, according to analyst Rethink Energy.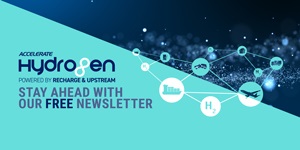 Hydrogen: hype, hope and the hard truths around its role in the energy transition
Will hydrogen be the skeleton key to unlock a carbon-neutral world? Subscribe to the weekly Hydrogen Insight newsletter and get the evidence-based market insight you need for this rapidly evolving global market
Coke, a type of coal, is traditionally used in a blast furnace to extract iron from ore, producing both the required heat and the chemical reaction that removes oxygen from the ore. But both these tasks can also be performed by hydrogen, in a process known as direct-reduced iron (DRI).
When the H2-DRI process is combined with a renewables-powered electric arc furnace to turn the iron into steel, the resulting product is known as green steel.
"The US can be regarded as 'ahead of the competition', when it comes to the price of green steel," the UK-based analyst writes in a report entitled Green Steel Premium: Myth or Reality?
"With already very low prices for green hydrogen production (around $3.35/kg) the imminent subsidy of up to $3/kg as part of Biden's Inflation Reduction Act (IRA) will prompt green steel to undercut all other forms of steel manufacturing as soon as the subsidy kicks in, in 2024."
But it adds: "The only problem might be the fact that there isn't that much green hydrogen produced at the moment, not only in the US, but anywhere in the world so even though green steel will be economically the cheapest pathway of steel production, the industry will still require another year or two to build on the existing or upcoming pilots.
"In the meantime, blue and even grey hydrogen will be able to at least provide a proof of concept to any methods developed for green hydrogen usage as the direct reduction of iron process is completely agnostic to the color of hydrogen used."
The report goes on to say that "blue steel" produced using blue H2 derived from natural gas with carbon capture and storage will also be cheaper than grey steel made using coke, thanks to a smaller subsidy under the IRA (see panel below) — but will still be more expensive than green steel.
The EU's plans to enforce a carbon border adjust mechanism in 2026 that will tax imports according to their carbon content will make US green steel an attractive proposition for European buyers, Rethink says.
"The divergence in price between sustainable steel processes and fossil fuel based methods past 2025 will only represent the final nail in the already built coffin for traditional steel manufacturing procedures," it explains.
"The road seems to be set for green steel to not only become an attractive business proposition but to also severely undercut any rival manufacturing methods and completely transform the American share of the steel industry."
A similar subsidy to the US tax credits in the EU "could start affecting the industry in a positive way as soon as H2 2024", but the traditional fossil-fuel blast furnace/basic oxygen furnace (BF/BOF) production method would still be cheaper for several years.
But the report adds: "As green hydrogen will continue to become cheaper and cheaper, we predict that green steel will undercut the current cheapest BF/BOF method in 2028."
However, green steel will not become cheaper than coal-based grey steel in China until "sometime close to 2040", Rethink says, due to the low price of domestic coal.
Details of the US hydrogen tax credit
The $433bn Inflation Reduction Act of 2022 creates a tax credit that would pay clean hydrogen producers up to $3 per kilogram (adjusted for inflation).
The size of the tax credits available to US clean hydrogen producers depends on the lifecycle greenhouse gas (GHG) emissions of each project — and more importantly, on how much staff are paid.
So the basic tax credit rate for "qualified clean hydrogen" is set at $0.60/kg, with a sliding scale depending on lifecycle emissions — measured in carbon dioxide-equivalent (CO2e) — of the H2 produced.
Hydrogen manufactured with less than 0.45kg of lifecycle CO2e emissions per kg of H2 would receive 100% of the credit, followed by 33.4% for 0.45-1.5kgCO2e/kgH2, 25% for 1.5-2.5kg and 20% for 2.5-4kg.
The lifecycle emissions would have to be verified "by an unrelated third party", and only projects that start construction before 2033 would qualify.
However, the wage requirement in the new bill seems to be the most important part of the deal — multiplying the size of the tax credit by a factor of five.
Producers would be eligible for this boost if they ensure "that any laborers and mechanics employed by contractors and subcontractors in the construction of such facility… shall be paid wages at rates not less than the prevailing rates for construction, alteration, or repair of a similar character in the locality in which such facility is located as most recently determined by the Secretary of Labor".
Importantly, these lifecycle emissions are calculated from "well to gate" — in other words, they would include upstream methane emissions in the production of blue hydrogen (which is made from natural gas with incomplete carbon capture and storage).
Also, the IRA states that blue hydrogen projects would be ineligible for H2 tax credits if they already receive federal tax credits for carbon capture and storage — but green hydrogen projects would also be allowed to receive renewable energy tax credits valued at $30/MWh in addition to the hydrogen ones.