The Dutch government is subsidising over 1GW in electrolyser capacity in the Netherlands to the tune of nearly €800m ($967m), as part of a multi-billion-euro EU programme that aims to use green hydrogen to decarbonise some of the continent's most polluting heavy industry.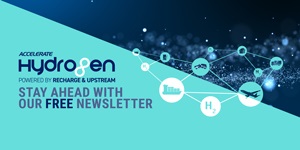 Hydrogen: hype, hope and the hard truths around its role in the energy transition
Will hydrogen be the skeleton key to unlock a carbon-neutral world? Subscribe to the weekly Hydrogen Insight newsletter and get the evidence-based market insight you need for this rapidly evolving global market
The Netherlands' Ministry of Economic Affairs and Climate has cleared €783.5m in national subsidies for seven Dutch electrolyser projects that will supply green hydrogen made from renewable energy for a variety of industrial uses, including the production of ammonia for fertiliser, the production of steel and methanol, and for use in oil refining.
The support forms part of the second wave of the EU's co-ordinated member-state subsidy programme for hydrogen, the €5.2bn Hy2Use Important Project of Common European Interest (IPCEI), which was given the nod to go ahead by the EU in September.
Among the projects granted cash in yesterdays announcement is HyCC, a joint venture between electro-chemicals firm Nobian and infrastructure firm Macquarie, which had applied for support for two electrolyser projects, one to supply green hydrogen for a Tata Steel plant in Ijmuiden near Amsterdam (H2ermes) and another for a BP refinery in the Port of Rotterdam (H2-Fifty).
The H2ermes scheme will house a 100MW electrolyser, and H2-Fifty 250MW. Both will be powered by offshore wind farms in the North Sea.
Shell's 200MW Holland Hydrogen 1 project — to be supplied from the company's Hollandse Kust Nord offshore wind farm — in the Port of Rotterdam was also granted funding, even though it took final investment decision (FID) in July.
Shell's executive vice-president for emerging energy solutions, Anna Mascolo, had previously told reporters from Hydrogen Insight that Shell would consider applying for subsidies after FID.
Also on the Ministry of Economic Affairs and Climate's funding list was Orsted's 100MW electrolyser at Yara's Sluiskil fertiliser plant, which will use renewable hydrogen to make green ammonia, and Engie's 200MW HyNetherlands project, which will see green H2 supplied to a methanol plant.
Air Liquide's 200MW CurtHyl project was also successful in the scheme, as was its 200MW ELYgator.
CurtHyl, which will initially house a 10MW electrolyser to use power that would otherwise have been curtailed from Vattenfall's Slufterdam onshore wind farm, could be scaled up if it can secure power from the planned Hollandse Kust Zuid offshore wind farm.
ELYgator would be located in Terneuzen, where Air Liquide plans to inject green H2 into the existing hydrogen grid for use in mobility and industry.
In total, electrolyser capacity in the approved projects adds up to 1.15GW, over a quarter of the Netherlands' target of 4GW by 2030.
"With the IPCEI subsidies, the government is giving an impetus to the hydrogen market and the technologies that are required for it," said the Ministry of Economic Affairs and Climate. "The energy crisis and high energy prices make it even more urgent to become independent from fossil fuels as quickly as possible and to make the industry more sustainable."
However, an application from Germany's Uniper for a 500MW electrolyser at its Maasvlakte power and industrial heat complex appears to have been denied or delayed.
The first wave of the hydrogen IPCEI, the Hy2Tech, focused on technological advances and was given the go-ahead by the EU in July. Member states are now disbursing up to €5.4bn in public cash to 35 companies that applied.
The third wave will focus on hydrogen storage and import infrastructure, and the fourth on mobility and transport. Registration for the Dutch portion of the third wave is now open, the ministry said, adding that the country planned to spend up to €595m. The Netherlands has an additional €199m on the fourth, mobility-related wave of H2 subsidies.