A giant project to manufacture green methanol from renewable hydrogen and captured CO2 — which promises emissions reductions of 123% compared to conventional production — has been awarded €97m in grants from the EU Innovation Fund.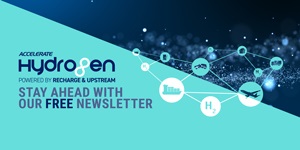 Hydrogen: hype, hope and the hard truths around its role in the energy transition
Will hydrogen be the skeleton key to unlock a carbon-neutral world? Subscribe to the weekly Hydrogen Insight newsletter and get the evidence-based market insight you need for this rapidly evolving global market
Project Air — being developed by German utility Uniper and Swedish chemicals manufacturer Perstorp at the latter's existing plant in Stenungsund, southern Sweden — will combine green H2 with biomethane and CO2 captured on site to produce 200,000 tonnes of methanol annually.
The renewable hydrogen "will be supplied by a world-class hydrogen electrolysis plant which will be set-up by Uniper", according to the project website.
Methanol, which is mainly produced today from natural gas, is used a base for chemicals such as formaldehyde and various polymers, but is increasingly being seen as a future carbon-neutral shipping fuel due to its high volumetric energy density compared to H2 and ammonia, and the fact that it is an easy-to-handle liquid.
For example, Danish shipping behemoth Maersk has ordered 19 dual-fuel methanol-powered vessels and has signed a memorandum of understanding to source up to two million tonnes of green methanol from Spanish producers.
Uniper and Perstorp hope that their facility will up and running by the end of 2025, bringing "far-reaching effects throughout many industrial value chains".
"Project Air has the potential to transform the chemical industry. It can happen now," says the project website.
The green methanol produced in Stenungsund will replace all the fossil methanol used by Perstorp each year in Europe as a raw material for chemical products, bringing annual CO2 savings of 500,000 tonnes — equivalent to 1% of Sweden's carbon emissions.
The use of biomethane and carbon capture meets the production process can be carbon-negative, due to the plant used to make the biogas absorbing CO2 from the air as it grows.
Danish renewables giant Orsted has taken a final investment decision on its own green methanol plant in Sweden, which will produce 50,000 tonnes of the chemical from 2025.
"Today marks an important milestone, not just for Project Air but for the chemical industry, as we are now demonstrating that it is possible to break our industry's dependence on fossil fuels," said Perstorp Group CEO Jan Secher.
"We hope that more will follow our lead with similar technologies, enabling circular production processes that utilize residue streams [containing hydrogen and CO2] and captured carbon."
Pointing to Europe's "unprecedented energy squeeze", David Bryson, chief operating officer at Uniper," added: "We need to substitute fossil resources with sustainable alternatives to achieve climate neutrality, and from that perspective Project Air is a game-changer for the transition of the chemical industry."
The EU Innovation Fund, which is run by the EU's European Climate, Infrastructure and Environment Executive Agency (Cinea), is 100% financed by the bloc's Emissions Trading System.
Finnish energy giant Fortum was a partner in the project until December, when it sold all its shares in Uniper and discontinued all renewables and hydrogen co-operation activities with the German company.