Pioneering Swedish start-up H2 Green Steel has ordered more than 700MW of alkaline electrolysers from German manufacturer Thyssenkrupp Nucera, as it nears a final investment decision (FID) on its flagship green steel facility.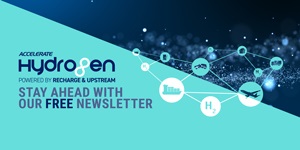 Hydrogen: hype, hope and the hard truths around its role in the energy transition
Will hydrogen be the skeleton key to unlock a carbon-neutral world? Subscribe to the weekly Hydrogen Insight newsletter and get the evidence-based market insight you need for this rapidly evolving global market
The plant in Boden, northeast Sweden, is set to be the world's first commercial-scale green steel factory in operation when it comes on line in 2025 — and it will also make H2 Green Steel one of the largest green hydrogen producers in Europe.
While traditional steelmaking requires coking coal to extract iron from iron-oxide ore — to both melt it and remove oxygen at the same time — H2 Green Steel will use green hydrogen instead, and then use renewables-powered electric arc furnaces to turn iron into steel in an almost entirely carbon-free process.
The start-up aims to produce two-and-a-half million tonnes of steel a year in Boden by the end of 2025, ramping up to five million tonnes by 2030.
"We have pre-sold about 60% of our volumes and that's also where we have chosen to cap it as we think that the price of green steel will develop favorably as the polluters will have to start paying for the brown steel [made using coal]," a spokesperson for H2 Green Steel tells Hydrogen Insight.
The Swedish firm is currently in the process of converting offtake announcements to binding long-term agreements, signing three supply contracts worth more than €2bn ($2.16bn) in early May and late April, including a €1.79bn deal with Italian steel group Marcegaglia — which is also one of the start-up's investors.
While H2 Green Steel has not yet closed financing, it confirms to Hydrogen Insight that it has already secured more than two thirds of the estimated €5bn project finance, with €3.5bn debt financing secured in October and €350m in equity. The Swedish firm expects it will take FID on the Boden project this year once it finishes its ongoing €1.5bn equity process.
The 700MW of electrolysers would form one of the largest green hydrogen projects in Europe when it comes on line.
"The electrolysis plant in Boden will be many times bigger than most existing electrolyser plants today," says H2 Green Steel's chief technology officer Maria Persson Gulda.
"Combining our own strong technical expertise with that of a proven high-performance and high-efficiency electrolyser like Thyssenkrupp Nucera's gives us a solid head start in the growing green hydrogen economy, which we will use to transform heavy industry with its difficult-to-degrade process emissions."
Thyssenkrupp Nucera already has orders from the 2.2GW Neom complex in Saudi Arabia, Shell's 200MW Holland Hydrogen I facility in the Netherlands, and Unigel's 60MW plant in Brazil, which will ramp up to 240MW in a future second phase.
These projects, including Boden, all require capacity to be installed by the mid-2020s, with Unigel due to have its electrolysers delivered by the end of this year.
Thyssenkrupp Nucera announced in 2021 that it would expand its annual production capacity from 1GW to 5GW by 2025. Hydrogen Insight has reached out to confirm its current capacity as of this year.
Fellow Swedish company Hybrit is planning to bring its commercial-scale green steel plant on line in 2026, while German steelmaker Salzgitter plans to start converting existing facilities to run on renewable hydrogen by the end of 2025.