Oil giant Saudi Aramco, United Airlines and energy trader Trafigura are among the investors in a new UK start-up that says it will be able to slash the cost of producing synthetic aviation fuel (SAF) made by combining green hydrogen and captured CO2.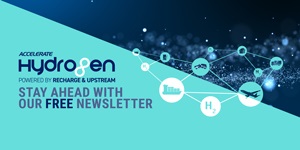 Hydrogen: hype, hope and the hard truths around its role in the energy transition
Will hydrogen be the skeleton key to unlock a carbon-neutral world? Subscribe to the weekly Hydrogen Insight newsletter and get the evidence-based market insight you need for this rapidly evolving global market
OXCCU — an Oxford University spin-off company — has received £18m ($22.7m) of Series A financing from the above companies and others (listed below), which will be used to accelerate the path to market for its unique technology, expand its facilities and double the size of its team.
While most processes for producing synthetic hydrocarbons involve two "capital intensive" steps — a so-called reverse water-gas shift and a Fischer Tropsch reaction — OXCCU says it has invented a highly efficient one-step process involving a "novel iron-based catalyst", which "offers a radically cost-effective solution".
Its product, which it calls OXEFUEL is "a more cost-effective and decarbonized alternative to fossil-based jet fuel for commercial airlines", the company claims in a press release.
"Airlines have consistently maintained that the cost competitiveness of SAF is their biggest barrier to adoption, and based on projected renewable energy costs in key production locations, OXCCU's technology can achieve cost parity."
As Hydrogen Insight recently reported, the first commercially produced synthetic fuel — also known as e-fuel — being made by HIF Global in Chile for German automaker Porsche, is said to be 100 times more expensive than fossil-based petrol, although costs are expected to fall significantly.
"This [OXCCU's] breakthrough is exactly what we need to turn the emerging SAF market into reality and cost-effectively cut carbon emissions from fuel production at scale," said Daniel Goldman, co-founder and managing partner of OXCCU investor Clean Energy Ventures.
"OXCCU's process is unique in the emerging SAF industry based on our evaluation of dozens of technologies. We see extraordinary potential for this technology to mitigate new aviation fuel production emissions at gigaton-scale in the near-future."
OXCCU CEO Andrew Symes added: "We've built an extraordinary team of senior scientists, engineers and operators, and now backed by this experienced group of investors, we are confident we can scale this technology into a cost-competitive and globally deployable solution to create a sustainable drop-in product for the global aviation market."
The company says its process can also produce other synthetic petrochemicals, such as lubricants and surfactants, and the company is also planning to use its technology to make fossil-free plastics.
OXCCU's investors for its Series A financing are:
Aramco Ventures
United Airlines Ventures Sustainable Flight Fund
Eni Next (the corporate venture arm of Italian oil company Eni)
Boston-based venture capital firm Clean Energy Ventures
International energy trader Trafigura
London-based venture capital firm Braavos Capital
Buenos Aires-based venture capital firm TechEnergy Ventures
Israeli venture capital firm Doral Energy-Tech Ventures.
Previous investment in the company came from London-based venture capital firm Kiko Partners, and the University of Oxford.