Los Angeles-based start-up H2U Technologies says it has successfully demonstrated a new proton-exchange-membrane (PEM) electrolyser stack that replaces the standard iridium catalyst with "inexpensive and abundant catalyst materials".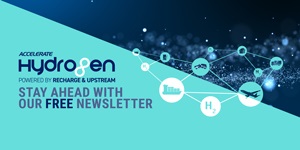 Hydrogen: hype, hope and the hard truths around its role in the energy transition
Will hydrogen be the skeleton key to unlock a carbon-neutral world? Subscribe to the weekly Hydrogen Insight newsletter and get the evidence-based market insight you need for this rapidly evolving global market
Iridium is a platinum group metal (PGM) that is one of the rarest elements on earth, costing $4,300 per ounce ($150,000 per kg) in the US at today's market prices.
With 1-2kg of iridium required for standard PEM electrolyser stacks, the catalyst cost alone for a 1MW machine can therefore add up to $300,000.
According to a 2020 report by the International Renewable Energy Agency, PEM electrolyser stacks cost between $400,000 and $870,000.
The stack is the part of the electrolyser that splits water molecules into hydrogen and oxygen using an electric current, and makes up about two thirds of the cost of an electrolysis system.
When the production of PEM electrolysers reaches gigawatt scale in the coming years, higher demand for iridium could significantly drive up the cost of the rare metal.
As H2U explains: "The development of alternative catalysts is significant as highly constrained sources of costly platinum group metal (PGM) materials, such as iridium, a mainstay electrolyzer catalyst, will lead to supply chain shortages and price increases."
CEO Mark McGough added: "Our iridium-free electrolyzers have the potential to revolutionize green hydrogen production. We will cut nearly half the cost of today's offerings by producing electrolyzers with economical and readily available materials.
"We're confident that our electrolyzer approach will be a game-changer."
The start-up, which was founded in 2020, says it is now on track to ship its first "proof-of-concept" 200kW electrolyser system next year.
To develop its novel low-cost catalyst, H2U used its patented Catalyst Discovery Engine (CDE), which it describes as a "data-driven rapid-screening process [that] allows scientists to make, characterize and quantify the catalytic activity of thousands of material compositions per week — faster than any other screening process available".
H2U's principle scientist, Michael Lichterman, added: "This initial demonstration shows the efficacy of our non-iridium catalyst materials. By leveraging our CDE, H2U will continue to improve the efficiency and durability of its catalyst materials with each subsequent electrolyzer system."
For obvious reasons, the start-up is not revealing exactly what its catalyst is made of.
H2U's technology only applies to PEM machines, which are said to be about 50% more expensive to purchase than alkaline electrolysers, which do not require PGM catalysts.
However, proponents of PEM machines argue that they respond faster to the ups and downs of wind and solar power than standard alkaline electrolysers, and are therefore a better fit for the production of green hydrogen. However, manufacturers of pressurised alkaline electrolysers, such as John Cockerill, say the same about their technology.
Some of the world's largest electrolyser makers, including ITM Power, Plug Power, Ohmium, Cummins and Siemens specialise in PEM machines, while others such as Nel and Chinese companies Peric and Sungrow offer both alkaline and PEM.
The five aforementioned PEM electrolyser makers are rapidly building up their annual manufacturing capacity, which is due to grow from a combined 3.9GW today to 10.4GW by the end of next year, according to research house BloombergNEF.