The first kilograms of green hydrogen to be produced offshore in Europe have been announced by French company Lhyfe.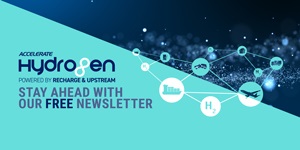 Hydrogen: hype, hope and the hard truths around its role in the energy transition
Will hydrogen be the skeleton key to unlock a carbon-neutral world? Subscribe to the weekly Hydrogen Insight newsletter and get the evidence-based market insight you need for this rapidly evolving global market
The specialist green hydrogen developer says its 1MW electrolyser — linked to a floating wind turbine — has begun operation 20km off the coast of Le Croisic in northwest France, as part of its Sealhyfe project.
Lhyfe claims it is the world's first offshore hydrogen production pilot, but Hydrogen Insight understands that it missed out on producing the first renewable H2 offshore by a matter of weeks, after Chinese state-owned wind turbine Dongfang Electric produced green hydrogen directly from seawater at a floating platform at an offshore wind farm off Fujian province earlier this month.
Lhyfe initially tested the 1MW electrolysis unit for eight months at quay before it was towed to the SEM-REV testing site in May. It plans to perform the same tests at quayside again with a separate electrolyser in order to compare how offshore conditions affect production.
Proponents argue that producing green hydrogen from offshore wind farms — which tend to be hundreds of megawatts or several gigawatts in size — will be the only way that Europe can make renewable H2 at the scale required, due to a lack of onshore sites that could accommodate similar amounts of green energy.
Some also believe that it will be cheaper to produce green hydrogen offshore and pump it to shore via pipeline, than transporting the offshore wind energy to shore via expensive long-distance high-voltage cables and install electrolysers on land.
"Our team — supported brilliantly by our partners — has achieved a genuine feat of technology in successfully designing this first floating green hydrogen production site," said Matthieu Guesné, founder and CEO of Lhyfe.
"We continue to move very quickly on offshore, which for us represents a tremendous development opportunity for mass producing hydrogen and decarbonising industry and transport," Guesné said. "We are continuing to build on the successes we have had so far, firstly to prove to the world that transition is possible today, and of course to accelerate it."
Lhyfe has also received a €20m ($21.9m) grant from the European Commission's Clean Hydrogen Partnership towards its planned 10MW HOPE project in Belgium, which will include a pipeline to transport green hydrogen produced offshore back to shore for compression and delivery.
The developer has already signed partnership agreements with energy companies such as EDPR, Centrica and Capital Energy, and plans to have HOPE up and running in 2025.