Investments in privately held hydrogen-related companies hit a new high in 2022, with some of the world's highest-profile investors — such as Amazon, BlackRock and Fortescue — involved in $100m-plus deals.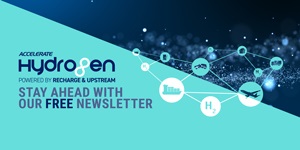 Hydrogen: hype, hope and the hard truths around its role in the energy transition
Will hydrogen be the skeleton key to unlock a carbon-neutral world? Subscribe to the weekly Hydrogen Insight newsletter and get the evidence-based market insight you need for this rapidly evolving global market
According to market analyst Pitchbook, private capital invested in hydrogen-related firms increased by more than 50% year-on-year in 2022 — amounting to $3.6bn in 2021 and $5.7bn in the first 11 months of 2022.
This includes both venture-capital and private-equity investments, but not funding for listed companies.
While financing for listed companies has to be revealed publicly, investments in private companies do not — but market analysts such as Pitchbook, CB Insights and Crunchbase make it their business to keep up to date in this segment.
Seattle-based Pitchbook has released its new full-year analysis on 2022 H2 investments exclusively to Hydrogen Insight — and these were the top ten largest private deals:
1) SPIC Hydrogen Energy, a subsidiary of giant state-owned Chinese State Power Investment Corporation of China, and developer of hydrogen fuel cell technology, received a total of $890m in funding from various Chinese investment groups, such as Beijing Daxing Investment Group and Agricultural Bank of China in 2022.
2) ACES Delta, a joint venture between Mitsubishi Power Americas and Magnum Development, raised $650m in June 2022 from Haddington Ventures, Ontario Teachers' Pension Plan and others. ACES Delta is developing theAdvanced Clean Energy Storage project in Utah, which will employ 220MW of wind- and solar-powered electrolysers to produce 36,500 tonnes of renewable H2 per year. It also received a $504.4m conditional loan from the US Department of Energy in April 2022.
3) Nebraska-based Monolith, a turquoise hydrogen developer, raised $300m in July 2022 from BlackRock, one of the world's biggest investments companies, together with Singapore's sovereign wealth fund Temasek, US investment company TPG Rise, and Mitsubishi and Azimuth, among others. Monolith is considered the current market leader in turquoise hydrogen, which is created by burning natural gas in the absence of air, producing solid carbon as a by-product, rather than carbon dioxide. Monolith also received a $1bn loan guarantee from the US Department of Energy in January 2022.
4) The Chilean company Highly Innovative Fuels (HIF) — a partnership between Enel Chile and local energy companies AME and ENAP — raised $260m from Baker Hughes, Porsche and others in April 2022, for the production of green hydrogen and derivatives in southern Chile. HIF produced its first litres of synthetic fuel in December 2022 and is aiming to produce methanol, carbon-neutral gasoline and carbon-neutral liquefied gas.
5) Hy2gen, a German green hydrogen developer, raised $227m in February 2022 in an investment by Hy24, a pure-play hydrogen investment company, Technip, and others, which at the time, was called the world's largest private investment in green hydrogen. The company is planning to build plants in countries such as France, Norway, Canada, Germany, and the US, to produce green hydrogen-based fuels for aviation, shipping, land transport and industrial applications.
6) German electrolyser manufacturer Sunfire raised $223m in June 2022 from Danish offshore wind-focused renewables investor Copenhagen Infrastructure Partners (CIP), Swiss environmental and social impact investor BlueEarth Capital and New York-based Carbon Direct Capital Management. The deal gave Sunfire — which makes alkaline and solid-oxide electrolysers — a total market valuation of $1.7bn.
7) US electrolyser maker Electric Hydrogen raised $198m in June 2022, in a funding round joined by corporate heavyweights such as Amazon, Equinor, Mitsubishi Heavy Industries and Honeywell, in addition to existing backers such as the Bill Gates-led Breakthrough Energy Ventures. Electric Hydrogen is led by former First Solar and Tesla executives and targets industrial-scale production of 100MW-plus electrolysis units.
8) Chinese fuel cell company Sinosynergy raised $148m from Chinese investors such as Ao Peng Investment in September 2022, before applying for listing in the Hong Kong stock exchange in November 2022. The company produces fuel cell systems for buses, trucks and storage, as well as refuelling systems.
9) Germany's H2 Mobility Deutschland raised $132m in April 2022 from hydrogen investor Hy24, as well as existing high-profile shareholders such as Air Liquide, Hyundai, Mercedes-Benz, Shell, and Total. The company is Europe's largest operator of hydrogen refuelling stations, according to its website, thanks to its German network.
10) Belgian "green gas" developer Tree Energy Solutions raised $129m in October 2022 from Fortuescue Future Industries, the Australian green hydrogen developer owned by billionaire iron-ore magnate Andrew Forrest. The investment made Fortescue a shareholder and channeled money into Tree Energy Solution's flagship project, the Wilhelmshaven Green Energy Hub on Germany's northwest coast.
* Pitchbook also included a $750m equity investment in US solar developer Intersect Power — by Climate Adaptive Infrastructure, Texas-based TPG Rise and Trilantic North America — in June 2022 among the biggest hydrogen-related deals of the year, due to the company's plans to build 1GW of green hydrogen capacity. But as its main business areas are solar power and battery storage, Hydrogen Insight has excluded it from the above list.