A US start-up that says it will begin work this year on the "world's largest electrolyser gigafactory" — a 3.75GW facility in Massachusetts — tells Hydrogen Insight that it will be a quarter the cost and size of a comparable PEM or alkaline electrolyser plant.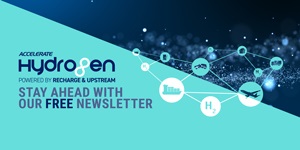 Hydrogen: hype, hope and the hard truths around its role in the energy transition
Will hydrogen be the skeleton key to unlock a carbon-neutral world? Subscribe to the weekly Hydrogen Insight newsletter and get the evidence-based market insight you need for this rapidly evolving global market
California-based EvolOH's anion-exchange membrane (AEM) electrolyser has been designed with low-cost mass production in mind, with no precious metals, enabling it to be cheaper to buy and run than other machines on the market, the company said when announcing the project late on Tuesday.
The "world's largest gigafactory" — to use EvolOH's words — will open in 2025 with all the equipment needed to produce 3.75GW of electrolysers per year on day one, chief commercial officer Art Shirley tells Hydrogen Insight.
This is because the 3.75GW of output will consist of a single production line, with the factory later adding three identical production lines, raising the total annual capacity to 15GW after 2026.
Norwegian electrolyser maker Nel plans to build a 4GW electrolyser gigafactory in the US, which might well be completed before EvolOH's facility. The world's largest electrolyser factory is currently Bloom Energy's 2GW facility in Delaware.
"Because of the high-speed, roll-to-roll processes we use, we estimate the plant will be about one quarter the size and cost of a comparable PEM [proton exchange membrane/polymer electrolyte membrane] or alkaline plant," Shirley explains, referring to the two most common forms of electrolyser.
"That's why we, as a start-up, can build such a large manufacturing capacity; it's actually quite small compared to the other guys."
CEO Jimmy Rojas tells Hydrogen Insight: "Our stacks [the part of the electrolyser that splits water molecules into hydrogen and oxygen] were redesigned from scratch. We do things very differently in order to optimise for long-term success: domestic supply chains, fully scaleable platform, etc. All of this also allowed us to redesign the factory.
"I visited a couple electrolyser factories, and I couldn't believe the archaic processes they had in place. They have to pay hundreds of millions for an old-school factory that makes maybe 1GW or 2GW a year. You can't change the world like that... We're finally bringing low-cost, advanced, and mature manufacturing processes to water electrolysis."
Shirley explains that the EvolOH stacks "will come on the market in 2025 at a price point well below $300/kW. Compare that to PEM at $700-1,000/kW, or alkaline at more than $300/kW, and you can see the capex [capital expenditure] benefits".
"For opex [operating expenditure], ours operates like a PEM but at a higher efficiency, and without caustic circulation like alkaline [electrolysers]."
EvolOH ­(pronounced ee-V'OH-low) says it has a short list of properties near the city of Lowell, Massachusetts — the so-called cradle of the American Industrial Revolution — and is negotiating to close on a site this summer, when its Series A funding round is also due to close.
Rojas declined to say how much money the company needs to raise, but said that such information would be revealed in the coming months.
"We, of course, plan to avail ourselves of any federal, state and local incentives, but those are not necessary to make this happen," Shirley tells Hydrogen Insight, explaining that the company has been privately funded to date with venture-capital backing.
So how is the start-up's electrolyser different to other machines on the market?
"EvolOH's anion exchange membrane technology works similar to PEM, except the hydroxyl ions are transported across the membrane from the dry cathode to the wet anode [rather than the opposite direction in PEM machines]," says Shirley.
"The electrodes have a conventional composition and use only nickel/iron catalysts. No electrolyte is required; instead, the process water has a moderate conductivity and mildly neutralized pH, comparable to PEM. Because of the mild alkaline conditions, no PGMs [platinum group metals] or titanium are required, and no iridium oxides on the anode [unlike PEM electrolysers]. Because it's dry, we can pressurise the cathode to at least 30 bar [to increase H2 production per kWh of electricity]."
The company name, EvolOH, is a contraction of "evolution of oxygen and hydrogen", Shirley says.
"Our name expresses our aspiration: to use earth-abundant materials to enable Power-to-X projects at a scale previously not possible."
If the company name is not familiar, that might be because EvolOh has not sought publicity until now. "We haven't been hiding, just doing what we set out to do without the hype of some players," he explains.
The start-up was founded in 2020 by its CEO, Jimmy Rojas, is a former climate-tech venture capitalist who has a PhD in hydrogen production and energy systems from Stanford University. Chief operating officer Scott Blanchet, who has helped develop the company's AEM electrolyser, was formerly chief technology officer at Nuvera Fuel Cells, and has been awarded more than 260 patents, according to the EvolOH website.