You could have the greatest invention the world has ever seen, but venture capital firms will not invest a penny in your technology without a solid business case, explains Michelle Robson, senior investment manager at AP Ventures, a venture capital (VC) investment fund specialising in hydrogen technology.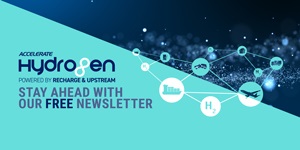 Hydrogen: hype, hope and the hard truths around its role in the energy transition
Will hydrogen be the skeleton key to unlock a carbon-neutral world? Subscribe to the weekly Hydrogen Insight newsletter and get the evidence-based market insight you need for this rapidly evolving global market
"A venture capital investor will want to see that they can make three to four times on their investment," she tells Hydrogen Insight.
"Think about how you pitch to them, make sure you have a compelling value proposition: How are you intending to make money out of it, as opposed to just focusing on the technology.
"I've had calls from founders that have developed something in a lab. And they will show me something that looks like a really cool experiment, where, for instance, they've got a pot of water and some aluminium, and they're cutting it with a tool to encourage oxidation, and it starts to oxidate, releasing all the hydrogen gas. And they say "look at this, look at all the hydrogen its producing". That's great, that's fantastic — but we need to see a product."
Think about how to sell it, at what price, how to get margins, and not rely on subsidies — and make a mini version of the product, Robson explains (see below for more details).
Why VC?
Robson describes a "maturity curve" for hydrogen companies, which often start out with grant funding from public authorities or innovation accelerators or an investment from an "angel investor", once a concept has been demonstrated in a lab.
Venture capital firms typically come in once a first pilot is established and some of the theoretical technology risk has been proven.
"We are not looking to take on fundamental tech risk. But there is still engineering risk — the projects are usually quite small and still need to be scaled up, and obviously a whole bunch of market and commercial risk. That space is really where we play," Robson explains.
In other words, VC funds typically invest in companies and inventions that are at an early stage of development and considered too risky for banks or private equity investors.
And as they often target emerging and high-tech industries — they are currently very interested in the fast-growing hydrogen space.
In 2022, VC funds such as Shell Ventures, the Bill Gates-founded Breakthrough Energy Ventures, and Amazon's Climate Pledge Fund, all made a handful of investments in hydrogen companies, according to a list provided by Pitchbook to Hydrogen Insight.
Specialising in the hydrogen sector, London-based AP Ventures is financed by major investors such as Mitsubishi, Equinor and Anglo-American, and currently has a portfolio of 22 companies, including the ammonia companies Amogy and Starfire Energy, liquid organic hydrogen carrier (LOHC) company Hydrogenious, as well as one of the US's biggest electrolyser and fuel-cell manufacturers, Plug Power.
AP Ventures often invests $2m-5m in early-stage companies, and bigger investments in more developed companies. Exit comes typically after five years, or more.
"We can go longer than five [years], which usually makes people relax a bit. We don't yell at founders if they decided they will pivot — we welcome changes if they make sense."
Top tips
Here are Michelle Robson's tips to optimise a hydrogen-tech pitch to VC investors:
A vision is not enough. "A company will often sell the vision — and you absolutely need to have that vision — but we also need to see that there's a way to get to that vision. You don't have to have all the details knocked out, but we want to know that there is a clean alignment between how you're intending to develop the technology and the commercial vision that you're painting for us."
Make a mini version, not just a lab demonstration. "We need to see something that's integrated, that looks almost like a mini version of what you are going to take to the market. For instance, if the technology is related to electrolysers, the model should be incorporated into an electrolyser stack, ideally with power flowing in and hydrogen flowing out."
Understand what the customer wants or needs. "What else does your customer need apart from your product in order for them to swap to your product? There is maybe a tendency to get too fixated on your own product and not think more broadly around actually the offering you need to put around the product."
Or predict what the customer will want. "I'm always reminded of the fact that customers don't always know what they want. Some of our most successful start-ups have been able to think about how things might change and how their product is going to be supportive of that change."
Think how to get margins, not just subsidies. "Think through how you're going to get that product to market and what price you can set. An early-stage tech start-up will think high level about the size of the market, how much they can address in that particular market, and how to generate a margin. We want to see that there is a decent healthy margin to be made, it can't just rely on subsidies."