HIF Global has been given the green light to build and operate the world's largest e-fuels production facility, which is due to begin construction in Matagorda, southern Texas, in 2024.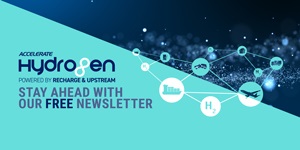 Hydrogen: hype, hope and the hard truths around its role in the energy transition
Will hydrogen be the skeleton key to unlock a carbon-neutral world? Subscribe to the weekly Hydrogen Insight newsletter and get the evidence-based market insight you need for this rapidly evolving global market
"Receipt from this initial authorization [from the Texas Commission on Environmental Quality] enables HIF to begin construction in Texas as soon as the engineering, commercial contracting, and financing are complete, which we expect in 2024," said Renato Pereira, CEO of HIF Global subsidiary HIF USA.
Chile-based HIF Global already operates the world's first e-fuels facility, the Haru Oni demonstration project in southern Chile, which combines green hydrogen with CO2 captured from the atmosphere to produce carbon-neutral e-gasoline that can be used as a drop-in fuel by any petrol vehicle.
The first batch of synthetic fuel produced at Haru Oni — 2,600 litres — was shipped to Porsche in Germany last December.
"In Texas, we are taking e-fuels to the next level of commercial scale, and we are now permitted to construct the largest e-fuels facility in the world, to produce approximately 200 million gallons [750 million litres] per year of shipping fuel [ie, e-methanol] and e-gasoline, the equivalent of decarbonizing over 400,000 cars on the road today," said Meg Gentle, executive director of the board of HIF Global.
That quantity of e-fuel — which the company says it expects to produce by 2027 — would require about 300,000 tonnes of green hydrogen per year, combined with around two million tonnes of "recycled carbon dioxide", in a synthesis process that will produce about 1.4 million tonnes of methanol. That methanol can either be sold directly for use in the chemicals industry or as a shipping fuel, or be further refined into 200 million gallons of e-gasoline.
Producing that amount of green hydrogen will require about 1.8GW of electrolysers, and HIF has already selected Siemens Energy to provide that amount of Silyzer300 PEM machines.
It is not yet clear where the CO2 — or the gigawatts of renewable energy required to produce 1.8GW of green hydrogen — will come from. The Haru Oni project uses on-site direct air capture of CO2 and a 3.4MW wind turbine.
It is also not yet clear who will buy such a huge quantity of e-fuels. All the synthetic fuel being produced at Haru Oni — 130,000 litres per year — is being bought by Porsche.
Porsche owners are probably among a small group of people who could afford to use e-fuel in their cars, in the short term at least.
Energy losses mean that for every 100kWh of renewable energy used to make green hydrogen and both power direct-air capture and the aforementioned catalyst reactions, only 13kWh would be available on the road.
That compares to 30kWh for fuel-cell vehicles and 77kWh for battery electric cars, according to figures from Brussels-based non-profit Transport & Environment.
In other words, almost six times more renewable energy would be required to power a car using e-fuels, compared to a battery electric alternative — with all the added expense that would entail.
According to a report released last month by the Potsdam Institute for Climate Impact Research, the synthetic fuel from Haru Oni costs about €50 ($55) per litre to manufacture — which is 100 times more expensive than the "typical wholesale price of fossil gasoline", of about €0.50 per litre.
However, it added: "As soon as the production of e-fuels on an industrial scale with direct air capture becomes established, production of around €2 per litre can arise.
"In the long term, production costs of less than €1 per litre of e-fuel will probably be possible."
HIF Global also plans to build an e-fuel plant in Tasmania, Australia, to produce up to 100 million litres of carbon-neutral synthetic fuel a year using 250MW of electrolysers.