Australian company HyTerra will find out in the coming weeks if there are commercially exploitable quantities of naturally occurring hydrogen underground at a site in Nebraska, central US.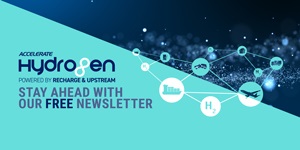 Hydrogen: hype, hope and the hard truths around its role in the energy transition
Will hydrogen be the skeleton key to unlock a carbon-neutral world? Subscribe to the weekly Hydrogen Insight newsletter and get the evidence-based market insight you need for this rapidly evolving global market
An exploration well, known as Hoarty NE3, was drilled in 2019 by Denver-based company Natural Hydrogen Energy, with initial testing finding "elevated hydrogen concentrations", and a transparent H2 flare was produced. But funding for further tests proved hard to come by, until Western Australia-based HyTerra joined the so-called Geneva project late last year.
Water in the borehole is currently being extracted by an electric submersible pump, which is expected to allow the hydrogen-rich gases beneath to enter the well bore. Flow rates will then be measured, with samples of the gases taken away for independent laboratory analysis to ascertain their composition.
HyTerra chief operating officer Luke Velterop tells Hydrogen Insight that the company plans to report in April on whether the site can provide a commercial supply of natural H2 (also known as white hydrogen). Other non-hydrocarbon gases, such as helium, might also be found in the gas stream, the company said.
HyTerra has a joint development agreement with Natural Hydrogen Energy, which gives the Australian company the option of acquiring 51% of the assets at the Geneva project and assume operatorship.
"This is a pivotal moment for HyTerra to demonstrate the hydrogen production potential of the Hoarty NE3 well and gain first-hand operational experience in natural hydrogen resource development," said chief technical officer Avon McIntyre.