Commercial hydrogen-powered flights from Rotterdam are being planned by 2025 in a new partnership between oil major Shell, UK hydrogen aviation pioneer ZeroAvia, and Rotterdam the Hague Airport.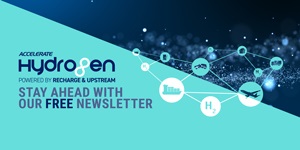 Hydrogen: hype, hope and the hard truths around its role in the energy transition
Will hydrogen be the skeleton key to unlock a carbon-neutral world? Subscribe to the weekly Hydrogen Insight newsletter and get the evidence-based market insight you need for this rapidly evolving global market
These will be preceded by demonstration flights to European destinations by the end of next year, according to the partners, which "will develop a concept of operations for hydrogen in airports" before "gearing up for commercial passenger flights by 2025".
"For these specific demonstration flights, the parties aim to establish routes to airports in Europe within 250 nautical mile [463km] radius of Rotterdam," ZeroAvia said in a statement.
Possible destinations within this range include London, Paris, Cologne, Frankfurt and Hamburg.
"This project will also target the development of aviation specific standards and protocols around safety, refueling and hydrogen management, enabling rollout of the promising fuel seamlessly," the statement explains.
"The parties will work together in discussions with potential airline operators for the initial demonstration and subsequent commercial flights."
Oliver Bishop, general manager of hydrogen at Shell, said: "This project and collaboration is a milestone as it enables a rapid decarbonisation of a hard-to-electrify sector such as aviation. It also offers the chance to support one of the first international zero-emission passenger routes.
"On top of that, it allows the opportunity to road test multi-fuel and multimodal fueling operations in a live airport environment. This is a big step forward for hydrogen aviation and for Shell's plans in this space."
ZeroAvia last month carried out a test flight of a 19-seat aircraft using one hydrogen-electric engine — powered by compressed H2, two fuel cells and lithium-ion battery packs — and one engine burning conventional jet fuel.
Shell is a part-owner of ZeroAvia and was among the investors in its $72m fundraising in 2022, alongside companies such as American Airlines, AP Ventures, Bill Gates-funded Breakthrough Energy Ventures, Horizons Ventures and Neom.
ZeroAvia aims to be the first company to launch a commercial hydrogen-electric flight, but is facing stiff competition from Universal Hydrogen in California, which was today granted permission by the Federal Aviation Administration to proceed with its first flight. The start-up, which is expected to take to the skies in its Dash 8-300 test plane in the coming weeks, also plans to begin commercial flights in 2025.
Due to hydrogen's lower energy density by volume compared to conventional fossil jet fuel, H2 planes will need larger tanks to travel the same distance, with Universal Hydrogen planning to remove seats in order to install its modular "hydrogen capsules".