The world's first ship powered by "solid hydrogen" is currently under construction in the Netherlands, ahead of operation next year.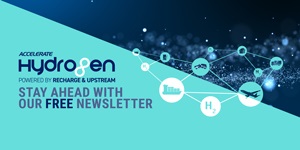 Hydrogen: hype, hope and the hard truths around its role in the energy transition
Will hydrogen be the skeleton key to unlock a carbon-neutral world? Subscribe to the weekly Hydrogen Insight newsletter and get the evidence-based market insight you need for this rapidly evolving global market
Neo Orbis, a 20-metre canal boat, will be run on sodium borohydride (NaBH4), a salt that releases hydrogen gas when exposed to water and a catalyst.
The H2 will then be captured and used to power a fuel cell, with the resulting electricity powering the propeller and onboard system, backed up by two batteries.
"The major advantage of this hydrogen carrier is its high energy density and that it can be bunkered safely in many places," said Interreg North West Europe, an organisation that has part-funded the vessel.
"The ship will pave the way for scaling-up of this technology for inland and short-sea shipping."
According to Galaxy FCT, a Malaysian company working on NaBH4 solutions, the stable solid can be stored at ambient temperatures and pressures, and release 126kg of hydrogen per cubic metre — compared to 71kgH2/m3 for liquid hydrogen, which needs to be kept below temperatures of minus 253°C, or 42kgH2/m3 for compressed hydrogen (700 bar), or 107.3kgH2/m3 for liquid ammonia.
However, "a lot of volume" is required for the additional systems on board, and a residual by-product from the process — sodium metaborate (NaBO2) — must be stored on board until it can be removed and reprocessed into new sodium borohydride.
"The economic side is a challenge, as the infrastructure is not ready yet," the project manager, Patricia Haks, writes in an online project presentation.
"It still costs energy to generate hydrogen, and we want to do so using green energy – but that also costs money. These issues are not yet part of this pilot. We will continue to work on this if the vessel takes to water [sic].
"We first want to show that we can use this solid form of hydrogen, not only reduce CO2 emissions (and other air pollutants, soot, sulphur oxide and nitrogen oxide), but to even reduce them to zero."
The global shipping industry is only just beginning the decades-long process of decarbonisation, with operators weighing up the merits of various potential carbon-neutral fuels, including liquefied or compressed green hydrogen, and the H2 derivatives ammonia and methanol.
Solid sodium borohydride has caught little attention from the major players thus far.
"We will use this new vessel to show possible port locations to potential clients, hold meetings and host trade missions," says the presentation. "We will also welcome government ministers and members of the Dutch royal family aboard regularly. We will sail around the harbour, Amsterdam city centre and the North Sea Canal up to IJmuiden."
So far, only the keel — the very bottom of the vessel — has been constructed at New Generation Shipyards in the northern Netherlands.
Last year, Macquarie joint venture HyCC announced it is planning a renewable hydrogen plant with a 500MW capacity at the port, in co-operation with the Port of Amsterdam, with plans to start operations in 2027.