Dutch start-up Battolyser Systems will build a 1GW factory for its unique electrolyser/battery hybrid at the Port of Rotterdam, it announced this morning.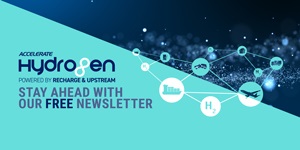 Hydrogen: hype, hope and the hard truths around its role in the energy transition
Will hydrogen be the skeleton key to unlock a carbon-neutral world? Subscribe to the weekly Hydrogen Insight newsletter and get the evidence-based market insight you need for this rapidly evolving global market
Its product, the Battolyser, is the world's only integrated battery and electrolyser system, designed to produce hydrogen from wind and solar power when prices are low, and send electricity to the grid when prices are high.
"It can alleviate grid congestion, enable the build-out of more solar and wind energy developments, and offer the lowest cost green hydrogen," the company says.
In simple terms, the battolyser consists of a non-flammable nickel-iron battery and alkaline electrolyser. When the battery is fully charged, the electrolyser starts splitting water into hydrogen and oxygen "with an outstanding efficiency of up to 92%".
When paired with a solar or wind farm, it ensures there is zero curtailment, while producing 100% green hydrogen, and ensures costs are kept low, therefore making "responsible use of scarce green electrons".
The 1GW factory, complete with new offices and laboratories, will be built in the M4H redevelopment area of the port at a cost of about €100m and directly employ roughly 700 staff — but the finance is not yet in place.
"This partnership with Port of Rotterdam to develop our first large scale manufacturing facility together is a big step forward in our commercialization," said Battolyser Systems CEO Mattijs Slee. "The factory allows us to deliver Battolysers at industrial scale and affordable prices.
"We are in constructive conversation with the Dutch government and EU institutions, and we are confident that together we can secure the required funding."
The Port of Rotterdam is positioning itself as Europe's biggest clean hydrogen hub — to both import the gas from around the world and enable its usage.
"Companies in the port are already actively working on projects regarding production, imports, shipping, storage and use of green hydrogen," said Port of Rotterdam CEO Allard Castelein. "With this factory we add green hydrogen equipment manufacturing to that portfolio. This is of great value for the port's ongoing efforts to decarbonize and facilitate sustainable industries for the future."