A new 1GW nuclear power plant dedicated to the production of clean hydrogen and ammonia will be built in Indonesia, if plans unveiled by two local state-owned firms, three Danish companies and one Swedish manufacturer go ahead as planned.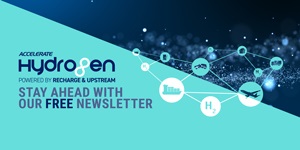 Hydrogen: hype, hope and the hard truths around its role in the energy transition
Will hydrogen be the skeleton key to unlock a carbon-neutral world? Subscribe to the weekly Hydrogen Insight newsletter and get the evidence-based market insight you need for this rapidly evolving global market
The $4bn facility would be powered by 25 small modular nuclear reactors (SMRs), built by Danish start-up Copenhagen Atomics, which would use molten-salt thorium, rather than uranium, as its energy source. Thorium is said to be safer, cheaper and far more energy efficient than uranium, but reactors using the element currently only exist in the lab and have yet to be commercialised.
The unnamed project in the city of Bontang, on the east coast of Borneo, would produce one million tonnes of "ultra-low emission" ammonia per year from 2028 for state-owned chemicals manufacturer PT Pupuk Kaltim — a quantity it says would produce enough fertiliser for the production of food for 45 million people.
The company produced 2.9 million tonnes of grey ammonia from unabated natural gas in 2021, according to its latest annual report.
The other four project partners all have a specific role to play:
The six companies will work together on a feasibility study over the next six months.
Although the project economics have not been finalised, "the construction is expected to cost around $4bn", not including operations and maintenance, according to a joint press release.
"The ammonia from the plant can also potentially be used as CO2-free marine e-fuel — and since Indonesia is on one of the major trade routes for international shipping traffic, it could be an obvious use," it added.
"The facility will be extremely competitive on the market for ultra-low emission ammonia, which is central to reducing agriculture's and shipping's CO2 footprint from fertilisers and fuel.
"Therefore, the Danish players expect that there will be demand for similar facilities elsewhere in the world."
The MoU was signed by representatives of all six companies on Friday at Topsoe's headquarters in Lyngby, Denmark.