Andrew Forrest, the Australian iron-ore billionaire behind one of the world's most ambitious green hydrogen companies, Fortescue Future Industries (FFI), has committed $500m to seed a new fund to help Ukraine rebuild in a green way.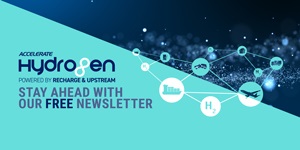 Hydrogen: hype, hope and the hard truths around its role in the energy transition
Will hydrogen be the skeleton key to unlock a carbon-neutral world? Subscribe to the weekly Hydrogen Insight newsletter and get the evidence-based market insight you need for this rapidly evolving global market
The fund, called the Ukraine Green Growth Initiative, will finance the build-up of green energy infrastructure — much of which has been destroyed in Russia's brutal invasion.
"Andrew and I have agreed we will not replace communist era rubbish Russian infrastructure, instead we will leapfrog to the latest technology," said President Volodymyr Zelensky.
"We will take advantage of the fact that what the Russians have destroyed can readily be replaced with the latest, most modern green and digital infrastructure."
Power grids with built-in digital communications are more able to quickly respond to fluctuations in variable renewable energy supply, as well as demand, and make it easier to add more green energy to the system and introduce complex systems such as virtual power plants and demand response.
Forrest told the BBC: "The president [Zelensky] sees [the fund] as an opportunity to completely replace old coal-fired [and] nuclear power stations with brand new green energy.
"That capital would be available the instant that the Russian forces have been removed from the homelands of Ukraine."
Forrest hopes that the long-gestating initiative will grow to $100bn, and he has already spoken about it with US President Joe Biden, former UK Prime Minister Boris Johnson, Australian Prime Minister Anthony Albanese, OECD Secretary-General Mathias Cormann, BlackRock CEO Larry Fink and UN special envoy Michael Bloomberg, according to a statement from his holding company Tattarang.
"The US$25bn Ukraine Green Growth Initiative will be the home of professional and sovereign investment with the aim of helping rebuild Ukraine in one generation, whilst delivering returns to investors," said Forrest.
"We will seed the Initiative with a US$500m investment. I invite professional investors, fund managers and sovereign funds and all who believe invading another country should now be forever consigned to the historical garbage bin of humanity's worst mistakes, to join us."
The strategy was agreed with President Zelensky back in June, when the billionaire visited Kyiv.
"Ukraine can enter a golden era. By business backing Ukraine, we're sending a message to the world. I want every government to know that as soon as hostilities cease global business will be ready to help rebuild immediately," added Forrest.
"We will build a new future, not simply replace the past. We want Ukrainian people to know that we will be there with you, helping you to deliver strong economic growth in Europe."
Forrest has not explicitly stated that green hydrogen would be part of the efforts by the mega-fund, but the US announced this week that it would help build a nuclear-hydrogen pilot project in Ukraine, while the EU believes that Ukraine will be a major renewable H2 exporter to the bloc.
FFI aims to produce 15 million tonnes of green hydrogen annually by 2030, which would require a staggering 450GW of wind and solar power, and it is planning to invest billions of dollars in gigawatt-scale renewable H2 projects all over the world, including in Papua New Guinea, the Democratic Republic of the Congo, Australia, Argentina, Brazil and Egypt.
The $500m seed investment was made by the Australian investment group Tattarang, which is 100% owned by Andrew Forrest and his wife Nicola.
Forrest is the founder of Australia's Fortescue Metals Group, the world's fourth-largest iron-ore producer, which has a market capitalisation of A$50.53bn ($34.33bn). Its meteoric rise has helped Forrest to become Australia's richest man, with a net worth of $17.8bn, according to the Forbes 2022 rich list.
The Ukraine Green Growth Initiative was announced on Thursday at the BloombergNEF forum in Singapore.