Germany's H2Global tender scheme — to subsidise and import green hydrogen from outside the EU — will now receive €4bn of government funding, up from the initial €900m agreed last December, Chancellor Olaf Scholz revealed during a roundtable meeting at COP27 in Egypt on Tuesday.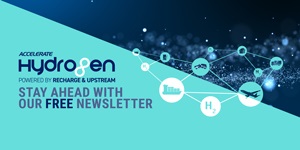 Hydrogen: hype, hope and the hard truths around its role in the energy transition
Will hydrogen be the skeleton key to unlock a carbon-neutral world? Subscribe to the weekly Hydrogen Insight newsletter and get the evidence-based market insight you need for this rapidly evolving global market
"I'm proud to say that last week, the German government gave the final go-ahead for the first tendering process, which will start straight after COP," he told the high-level Roundtable on Investing in the Future of Energy: Green Hydrogen, which he co-chaired alongside Egyptian President Abdel Fattah El-Sisi.
"We plan to invest more than €4bn [$4.03bn]," Scholz explained.
The H2Global auction scheme — which was approved by the European Commission under state-aid rules as a €900m project last December — sets up a government-funded Hydrogen Intermediary Network Company (Hintco) that will buy green H2 from outside the EU through fixed-price ten-year hydrogen purchase agreements (HPAs), before selling it on to domestic users. The HPAs will be won by the lowest bidders at tenders, while the supply deals will be awarded to the highest bidders.
The €900m was only expected to fund about 500MW of electrolyser projects — all of which must be powered by new renewables facilities to qualify — so that figure would now be likely to be in excess of 2GW.
Chancellor Scholz explained the rationale for H2Global by describing green hydrogen as "an infant industry", with production that is "too cost-intensive compared to fossil fuels", adding that Germany would only be able to produce one third of the expected demand for renewable H2 within its borders, and that "the majority needs to come from abroad".
He also pointed out that the EU plans to import ten million tonnes of green hydrogen by 2030 under its REPowerEU plan.
"There's also a chicken-and-egg dilemma of supply and demand where market actors block each other, waiting for the other to move," he said. "Green hydrogen producers are ready to invest massively, but they require long-term offtake agreements.
"And steel factories, or chemical plants, as potential consumers, must be sure they will receive sufficient and competitive supplies before they invest in innovative technologies and adjust their production processes.
"This makes a strong case for government action."
Having controversially stated in September that hydrogen would replace the natural gas used today for industry, heating and fuels, Scholz was rather more circumspect in his scripted remarks, which he delivered in English. "Green hydrogen is the key to decarbonising our economies, especially for hard-to-electrify sectors, such as steel production, the chemical industry, heavy shipping and aviation," he told the roundtable.
The chancellor said he had three messages for the attendees: "green hydrogen is not some distant future fantasy, it is happening now"; "to ensure the hydrogen revolution succeeds, we are building a functioning global market"; and that "we are serious about green hydrogen and we are willing to work with all of you".
"Climate neutrality is not just a goal of some, but of all of us," he concluded. "Green hydrogen is essential to reach that."
UPDATED: to reflect that supply tenders under H2Global will be awarded to the highest bidder