The European Council has finally agreed on its update to the Renewable Energy Directive (RED), known as RED II, which sets binding targets for member states to reduce emissions by increasing renewables in power, industry and transport.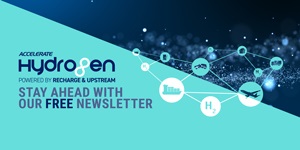 Hydrogen: hype, hope and the hard truths around its role in the energy transition
Will hydrogen be the skeleton key to unlock a carbon-neutral world? Subscribe to the weekly Hydrogen Insight newsletter and get the evidence-based market insight you need for this rapidly evolving global market
This includes a target for 42.5% of hydrogen used by industry (eg, ammonia and chemicals production, oil refining and green steel manufacturing) by 2030 to be renewable — as defined in the Delegated Acts soon to come into force — rising to 60% by 2035.
The legislation has been held up due to disagreements between France and other member states, particularly Germany, on whether hydrogen made from nuclear-powered electrolysis should count toward these targets.
In March, a draft agreed by the European Commission (EC) and the European Council (made up of ministers from member states) included a 20% discount on the target if member states could prove that their national contribution to the overall EU renewables target meets their expected contribution, and if the share of hydrogen from fossil fuels consumed in the country is not more than 23% in 2030 and 20% in 2035 — opening the door for France to produce a lot of H2 from nuclear power.
This exemption is retained in the final agreement, with both the French and German governments declaring that it satisfies their respective interests.
RED II also includes binding targets for transport, with either a share of renewable energy within the final consumption of energy in the transport sector of at least 29% by 2030; or a greenhouse gas intensity reduction of at least 14.5 % by 2030.
And at least 1% of all fuel supplied to the transport sector must be biofuel or so-called Renewable Fuels of Non-Biological Origin (RFNBO) — the EU's term for green hydrogen and its derivatives, such as ammonia or methanol — by 2025, with at least 1% RFNBOs by 2030.
The final agreement also stipulates that 1.2% of shipping fuels supplied by EU ports in 2030 have to be RFNBOs. A similar target for aviation is being considered as part of the separate ReFuel EU initiative.
An exemption for ammonia production had also been tabled during final negotiations.
While replacing the grey hydrogen — made from unabated fossil gas — used for ammonia fertiliser production is an obvious use case for green H2, these facilities also require consistent and continuous supplies of hydrogen. European ammonia producers have also been struggling following the shutdown of about 70% of the continent's 20 million tonnes of annual production capacity during the worst of the gas spike last year, while providing a continuous supply of green hydrogen (ie, based on variable renewable energy) would require large-scale H2 storage or imports from a diverse array of countries.
However, while the clause tabled included a case-by-case exemption for ammonia plants from the target as long as they had started to phase out fossil hydrogen, the final text of the agreement only highlights that the "necessary rebuild of such facilities will require important efforts of Member States depending on their specific national circumstances and the structure of their energy supply".
And while it has taken months to reach this deal, it is likely to take even more time for governments to take action towards these targets.
The European Parliament first has to confirm the provisional agreement, after which both this body and the Council will have to take a formal vote — which could mean another few months before the legislation can be published in the EU's Official Journal and therefore become law.
And once RED II is in force, member states will have 18 months to update their national laws and regulations for compliance with these new rules — all of which means it could be another two years before they take effect.
RED II also commits member states to a binding 2030 target of 42.5% renewables – measured as gross energy consumption – in their electricity mix, up from a previous goal of 32%. A 'top-up' of another 2.5% is supposed to be reached through voluntary contributions by member states.
The new target means that 100GW of new wind and solar capacity need to be installed in the EU each year, according to the German government.