A contracts for difference (CfD) scheme that aims to close the market price gap between renewable green hydrogen and its fossil-derived grey counterpart is to launch as a pilot project in 2023 under the auspices of the €3bn ($3bn) European Hydrogen Bank (EHB).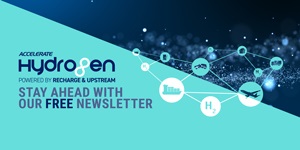 Hydrogen: hype, hope and the hard truths around its role in the energy transition
Will hydrogen be the skeleton key to unlock a carbon-neutral world? Subscribe to the weekly Hydrogen Insight newsletter and get the evidence-based market insight you need for this rapidly evolving global market
European Commission (EC) executive vice president Frans Timmermans said that the EHB programme, furnished with cash from the EU's €38bn Innovation Fund, would "support 100% of the cost gap [of green hydrogen] in comparison to grey hydrogen produced in the EU".
CfDs are a well-established mechanism in which the state agrees a fixed price for a product — such as green hydrogen — via an auction process, with the difference between the agreed price and the real-world wholesale price topped up by the state.
"A hydrogen bank should bring more funding but it should also de-risk the market in Europe, both for domestically produced and imported hydrogen," Timmermans said at European Hydrogen Week in Brussels yesterday. "Today we see many hydrogen producers waiting for signals from the off-takers and the off-takers waiting for hydrogen producers to start making the necessary investments."
Launched unexpectedly in September, the EHB aims to support the EU's goals of producing 10 million tonnes of green hydrogen by 2030, and importing a further 10 million tonnes. CfDs also form a major cornerstone of the REPowerEU plan to switch grey hydrogen use to green by 2030.
Timmermans also used yesterday's speech to announce a massive $3bn funding allocation to achieve these goals, with companies and projects across the entire hydrogen value chain invited to apply for cash as soon as next week.
Price certainty
The main goal of the EHB is most likely to be price certainty for investors: in fact green hydrogen was already undercutting grey hydrogen on price in some places in Europe earlier this year, but this might not last in a volatile energy market.
According to Rystad Energy, grey hydrogen prices peaked at around $14/kg in March, while the prices for green H2 varied wildly: from $4/kg in the Iberian peninsula to up to $16/kg elsewhere.
But although prices for fossil gas aren't expected to return to pre-crisis level before 2025, many grey hydrogen users will be buying gas on much cheaper long-term contracts, putting downward pressure on the cost of grey H2, Rystad Energy told Hydrogen Insight. Meanwhile, the supply crunch on raw materials has affected the renewables sector, putting upward pressure on the cost of green hydrogen.
"CfDs will still be key when project financing is concern," Minh Le, head of hydrogen research at Rystad Energy told Hydrogen Insight. "The key will be what ceiling price will be used by the Hydrogen Bank, whether this will be different country by country and how it will be calculated in the future."
But other analysts pointed out that the EU must also sort out the confusion surrounding its regulatory framework for hydrogen before it can fully reap the benefits from the EHB scheme — especially now the US has introduced the Inflation Reduction Act (IRA). President Joe Biden's flagship legislation offers up a maximum $3/kg green hydrogen tax credit, making it competitive with grey overnight.
"IRA notwithstanding, the EU remains an attractive place to invest in hydrogen," said independent hydrogen consultant Gniewomir Flis in a post on Twitter. "But everything will be delayed as long as there is no regulatory clarity on what counts as renewable hydrogen."
On Monday EC officials at European Hydrogen Week were at pains to show that they have regulation in their sights, with one of Timmermans' team telling Hydrogen Insight that the major questions should be resolved within a year.
Not a problem
But Timmermans appeared unphased by the competition between the EU and the US on the energy transition.
"I don't think the IRA needs to be a problem for us," he told the Brussels audience, adding that European investors can be certain that the EU will not waver on the energy transition.
"And perhaps I should stress this a bit more: We don't have the luxury of the Americans to have huge amounts of fossil fuels of our own," he added. "So even though it might look wonderful and great and limitless on hydrogen at some point they will also come into that same friction in discussing with the hydrocarbon industry, that will still play a huge role in the United States".