The EU plans to hold its €800m ($865m) pilot auction for green hydrogen subsidies in December, according to a presentation to industry seen by Hydrogen Insight.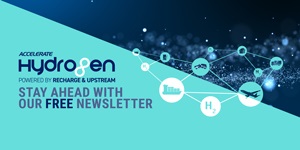 Hydrogen: hype, hope and the hard truths around its role in the energy transition
Will hydrogen be the skeleton key to unlock a carbon-neutral world? Subscribe to the weekly Hydrogen Insight newsletter and get the evidence-based market insight you need for this rapidly evolving global market
It had originally been announced that the auction would be "launched in autumn 2023", with industry expecting it to be held in the fourth quarter of this year.
The news came at a European Commission (EC) stakeholder consultation workshop in Brussels on Tuesday, where industry representatives were presented with the EC's initial responses to feedback gained in its public consultation, which ended last week.
The presentation explained that final terms and conditions for the auction would be published in mid-summer — but that some of them had already been effectively set in stone.
Despite industry calls to extend the auction to support any type of low-carbon hydrogen, including blue H2 made from fossil gas with carbon capture and storage, the European Commission confirmed that only renewable hydrogen would be supported, and that this green H2 would still need to meet the criteria set out in the Delegated Acts.
These rules require electrolysers to be powered by newly built renewable energy projects, with producers having to prove the use of 100% green electricity every hour from 2030, but on a monthly basis until then.
While these Delegated Acts have not yet been officially signed off by the European Parliament or European Council of member states, industry has argued that these rules are overly strict and will push up the cost of producing renewable hydrogen within the EU.
The EC has also committed to the pilot auction using a ten-year fixed-premium support mechanism — which was announced in April as providing up to €4 per kilogram of H2 — rather than a variable Contracts for Difference (CfD) model such as that offered by the UK, although it did not rule out using CfDs in the future.
The Commission also clarified that bids should only cover the expected cost gap between the cost of production and the offtake price.
However, in response to industry complaints that the proposal to pay the fixed premium on an annual basis would be problematic for developers, the EC said it will consider increasing the frequency of payments to two or four times a year.
The presentation also set out some of the other responses that industry had given in the public consultation, but without giving the EC's reaction to them.
Industry had called for a change in the requirement that projects cannot stack subsidies — under the draft terms and conditions, auction bidders must declare that they are not receiving any state aid for the project or funding from other EU programmes.
Some respondents suggested that multiple kinds of state aid should be allowed per project, while others suggested that developers of long-standing projects that have already received state aid should be able to renounce or "calculate out" previously awarded subsidies.
Industry is also pushing back on the proposed time limit for projects to start up.
Under the draft terms and conditions, projects that win bids must bring their projects on line within three-and-a-half years of signing the grant agreement. Failure to do so by autumn 2027 would result in developers getting their support period cut by six months, while the contract will be cancelled outright if it does not being commercial operation by spring 2028. Support could also be truncated if the facility produces more hydrogen per year than what it bid for.
However, industry responses to the consultation call for five or six years to build projects, given uncertainties around waiting times for electrolysers and the potential for force majeure. They also call for the six-month grace period to be extended to one or one-and-a-half years, and for further reduction in support in such cases, rather than outright termination.
Industry gave mixed views to the proposed minimum project size threshold of 5MW, with some responses arguing that the floor should be increased to five tonnes of output per day, and others claiming that a size limit disadvantages smaller projects.
The cap of a maximum of 33% of the €800m budget for a single project — introduced to prevent a "winner takes all" situation — was also criticised for limiting large projects, although the Commission notes this problem can be solved with future auctions, particularly if it allows large projects to apply with multiple capacity stages.
Terms and conditions around power purchase agreements (PPAs) and hydrogen purchase agreements (HPAs) were also controversial within industry.
Currently, the Commission requires developers to have memoranda of understanding (MoUs) in place for a ten-year PPAs and fixed-price five-year HPAs that cover 100% of the project's volumes, as well as advanced discussions with environmental authorities, banks and equipment suppliers.
However, both PPAs and HPAs — even at the MoU stage — are relatively rare, with the former putting developers in competition with corporate and industrial power consumers for renewable electricity and the latter due to hesitancy from offtakers to lock themselves in to high prices.