The German cabinet has today approved the creation of a national core hydrogen network in a bid to speed up the use of H2 across the country.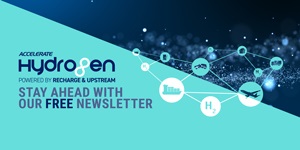 Hydrogen: hype, hope and the hard truths around its role in the energy transition
Will hydrogen be the skeleton key to unlock a carbon-neutral world? Subscribe to the weekly Hydrogen Insight newsletter and get the evidence-based market insight you need for this rapidly evolving global market
"Our goal is to ramp up the hydrogen market quickly in order to further advance the decarbonization of economic sectors with high greenhouse gas emissions," said vice-chancellor Robert Habeck, who is also the minister of economics and climate protection.
"This requires the rapid and cost-efficient establishment of a hydrogen network infrastructure in Germany that grows with the hydrogen market and is embedded in the EU internal market.
"With the creation of the framework for the hydrogen networks, we are taking a decisive step."
The cabinet, made up of three coalition parners — the centre-left Social Democrats, Greens and the fiscally conservative Free Democrats — agreed on a new amendment to the existing Energy Industry Act that sets out a new regulatory framework for the hydrogen network.
A press release about the agreement between the three coalition partners states that the first stage of the network "will include important hydrogen infrastructures that are scheduled to go into operation by 2032".
"Central hydrogen locations are to be connected and all regions of Germany are to be taken into account," it adds.
The exact routes of pipelines along the network will be "modelled by long-distance gas network operators in the coming months", which will be followed by a broad public consultation involving other countries and various market participants.
The Federal Network Agency will eventually approve the final configuration of the network, with a development plan included in an update of the Energy Industry Act by the end of this year.
"This needs-based planning should be based on the existing network development processes and deal with the hydrogen needs of relevant customers, such as energy-intensive companies, going beyond the hydrogen core network," the press release adds.
An initiative called the European Hydrogen Backbone — a group of 32 gas network operators — has already introduced a plan for a Europe-wide H2 network, which would see large amounts of clean hydrogen imported into northwest Germany and then distributed further afield.