Germany could have a "core" hydrogen pipeline network of over 11,000km in length by 2032 under plans unveiled today by the operators of the country's biggest fossil-gas pipelines — at the request of the national government.
Stay ahead on hydrogen with our free newsletter
Keep up with the latest developments in the international hydrogen industry with the free Accelerate Hydrogen newsletter. Sign up now for an unbiased, clear-sighted view of the fast-growing hydrogen sector.
The FNB, a group of gas transmission service operators (TSOs) in charge of shipping gas long-distance across Germany's 16 states, has been charged with delivering the network and associated infrastructure in order to connect demand for green hydrogen in German industry with renewable H2 production and imports.
The planned network unveiled by the FNB yesterday (Wednesday) envisages a total 11,200km of pipes running across the country (see map), with a concentration of pipelines in Germany's western industrial heartlands, close to Düsseldorf.
Much of the network will be delivered by using existing gas transmission pipelines, with a few newbuild additions between Berlin and Germany's north coast, and running intermittently along the country's western flank.
However, it is not yet clear how the TSOs plan to switch over existing gas pipelines to hydrogen without cutting off its major gas customers or how the scheme will be financed (although some of the routes to be converted have two or three parallel gas lines today, meaning one can be switched to hydrogen and the other one or two can continue supplying fossil gas).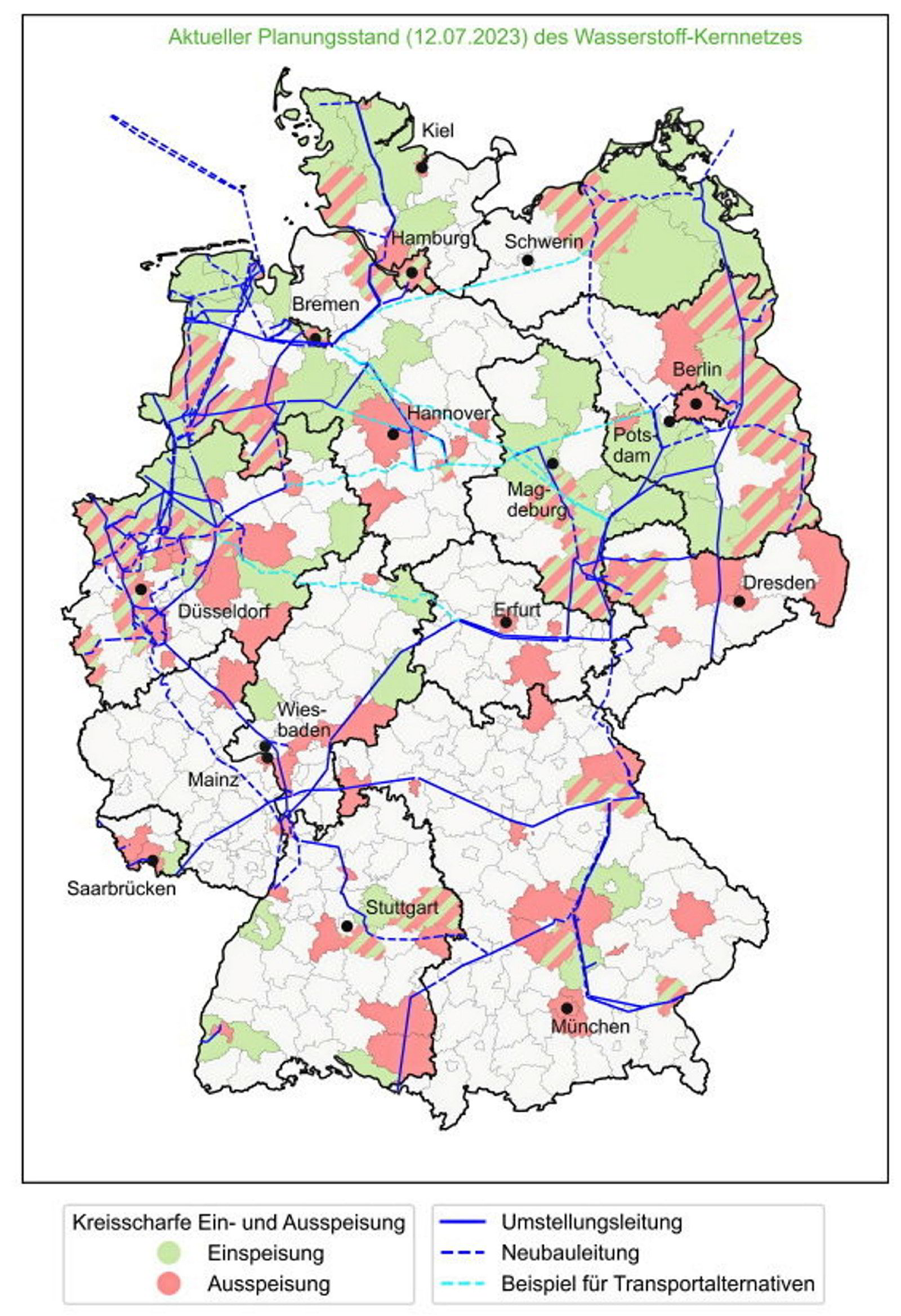 Primary targets for hydrogen demand include iron and steel producers, the chemicals industry including ammonia producers, refineries and producers of glass and smaller factories making ceramics and bricks.
In total, the network will be sufficient to carry hydrogen from all 10GW of Germany's targeted electrolyser capacity by 2030, the plan reads, targeting enough capacity to carry 15GWth (the calorific value measured in heat) of H2 by 2032.
The model prioritises connection for major green hydrogen projects that are on the EU's lists of Important Projects of Common European Interest (IPCEI) and Projects of Common Interest (PCI) — meaning they have been singled out by Brussels as significant projects and cleared for state subsidies.
But it also considers other electrolyser projects, including subsidised offshore electrolysers such as the 1GW Aquaductus scheme and research projects, as well as other large-scale projects not on the IPCEI list, although only 50% of those projects' capacities have been modelled.
Significantly, the network also encompasses major entry and exit points into Germany's existing gas network from surrounding countries, including the Netherlands, Belgium Austria, Switzerland and Poland. A new line is also mooted from Denmark.
Germany is expected to be heavily dependent on imports — up to 70% of its total demand requirement, according to the government — which makes hydrogen entry points essential.
The government is hoping the network operators will fund it entirely with private sector cash, via network fees. However, it has said it will consider partial subsidies as part of a detailed regulatory proposal for the scheme, which is currently under development.
The FNB called for the rapid development of the framework to allow the companies to raise the cash for the network's development.
"A Germany-wide core network is the desired signal of departure for all players along the value chain," said FNB's chairman Thomas Gößmann. "However, a key prerequisite is also the legal anchoring of a financing model that ensures marketable network charges and, at the same time, capital market-capable financing by the network operators."
Significantly, the network proposal appears to include a plan from three TSOs, unveiled late last year, to ship hydrogen in brand new — and now underutilised or even empty — gas pipelines built to ship Russian gas from subsea import pipeline NordStream 2, which was blown up in a sabotage attack in 2022, and NordStream 1, which was mothballed when flows from Russia stopped.
The 1,100km "Flow: Making Hydrogen Happen" concept put together by Gascade, Ontras and Terranets would start at Lubmin on Germany's Baltic coast, also the site of HH2E's 100MW electrolyser project, and make use of the Gascade's enormous 480km high-pressure NordStream 2 offtake pipeline, European Gas Pipeline Link (EUGAL), as well as the NordStream 1 pipeline Ostsee-Pipeline-Anbindungsleitung (OPAL).
The companies are currently put together an integrated gas and hydrogen network plan for 2025-37, which will also encompass a proposal to extend the network beyond the "core" pipelines.
Approved by the cabinet in Germany's federal government last month, the network has been mandated by 2032 as part of an amendment to the Energy Industry Act (ENWG-E).
The plan is now out for consultation for just over two weeks — with Germany's district network operators in particular encouraged to submit their views — before a final version is sent to the Federal Network Agency (BNetzA) for approval.
Once BNetzA has approved the final configuration of the network, a development plan is expected in an update of the Energy Industry Act by the end of this year.