Germany is to extend its flagship H2Global scheme for buying green hydrogen from outside the EU to European member states — and appears to have promised an extra €1bn ($1.06bn) in funding.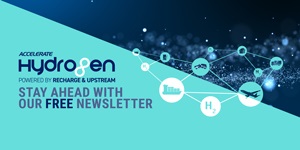 Hydrogen: hype, hope and the hard truths around its role in the energy transition
Will hydrogen be the skeleton key to unlock a carbon-neutral world? Subscribe to the weekly Hydrogen Insight newsletter and get the evidence-based market insight you need for this rapidly evolving global market
A proposal to roll the H2Global initiative into the EU's domestic hydrogen purchasing programme, the €3bn Hydrogen Bank, was also revealed by EU energy commissioner Kadri Simson and Germany's minister for economics and climate, Robert Habeck.
Meeting with Simson in Germany today (Wednesday), Habeck said that the country plans to spend "more than €5bn" on procuring hydrogen produced outside its borders—a €1bn increase from the proposed budget for H2 Global announced by Olaf Scholz at COP27. Hydrogen Insight has reached out to the German government to clarify whether all €5bn will be spent on H2Global.
Details are still emerging on what the EU-wide expansion of the H2Global initiative will look like, whether the German government will continue to bankroll it and who will have ownership of the auction process. However, this could act to bridge the gap between subsidising producers to make green hydrogen at the lowest possible cost while also incentivizing current hydrogen users to switch to a more-expensive product.
The H2Global programme tenders 10-year purchasing agreements with hydrogen producers, before holding competitive auctions to sell the H2 to the highest domestic bidders and covering the difference in price with a grant from the German government.
It has already launched its first €900m auctions purchasing imported green ammonia, methanol and sustainable aviation fuel, which are currently evaluating bids for first deliveries in 2024 or 2025.
The auction platform has already expanded its reach into the Netherlands—which announced a €300m tender to take place by the end of this year or early next in April—as well as discussing the inclusion of Belgium and Austria prior to this latest announcement.
As part of the Hydrogen Bank initiative, the EU plans to hold its first €800m Hydrogen Bank auction for a fixed-premium subsidy worth a maximum of €4/kg for domestic renewable hydrogen projects this December. While the final terms and conditions are still being decided, the latest draft includes requirements that bidders have to have at least a memorandum of understanding for a five-year hydrogen purchase agreement in place — although how this will interact with the H2Global scheme is currently unclear.