Germany will only be able to produce enough green hydrogen to meet 30% of its needs, so the remaining 70% will need to be imported, according to Robert Habeck, the Green vice-chancellor who also serves as minister for economic affairs and climate action.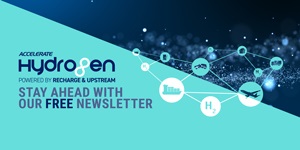 Hydrogen: hype, hope and the hard truths around its role in the energy transition
Will hydrogen be the skeleton key to unlock a carbon-neutral world? Subscribe to the weekly Hydrogen Insight newsletter and get the evidence-based market insight you need for this rapidly evolving global market
In March, Hydrogen Insight reported that a leaked draft of a new update to Germany's national hydrogen strategy revealed that the country would need to import 50-70% of its green H2.
"We need [international] partners," Habeck said in Berlin on Monday, Reuters reports, explaining why he had signed so many memoranda of understanding (MoUs) with other nations on hydrogen imports.
Germany plans to use green hydrogen to back up variable renewables (via 17-21GW of new H2-ready gas-fired power plants) and to decarbonise its heavy industries, including steel, but it may be on the verge of banning its use for domestic heating.
Habeck — who has already signed MoUs with the likes of Australia, Namibia, Brazil, South Africa, Uruguay and others — said it was important to find as many partners as possible to avoid too much dependency on individual nations, according to Reuters.
As part of its plans, Germany is also aiming to build several hydrogen and ammonia terminals on its northwest coast in order to facilitate large-scale imports.