All fossil-gas networks in Germany that are used to generate heat in buildings must be converted to hydrogen by the start of 2035 or be switched off, according to a new draft law unveiled by the German coalition government.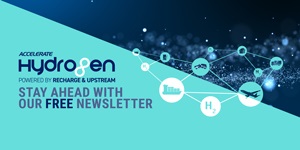 Hydrogen: hype, hope and the hard truths around its role in the energy transition
Will hydrogen be the skeleton key to unlock a carbon-neutral world? Subscribe to the weekly Hydrogen Insight newsletter and get the evidence-based market insight you need for this rapidly evolving global market
A previous version of the bill, which aims to ban fossil-fuel heating in Germany by 2045, had led to a public row between coalition partners the Greens and the more financially conservative Free Democratic Party — but a compromise agreement was reached late on Friday.
When the three-way "traffic light" coalition of the Greens, centre-left Social Democrats and FDP came to power in 2021, they had agreed that all new heating systems must be powered by at least 65% renewable energy "wherever possible".
A law on the matter was subsequently drafted by the Greens — under leader Robert Habeck in his role as minister for economic affairs and climate action — which amounted to a de-facto ban on new oil and gas heating systems from 2024, but it was leaked at the beginning of March, and the FDP came out fiercely against it.
A new draft law, agreed by all three parties on Friday, has now been released, which allows "hydrogen-ready" gas boilers to be installed until 2035 — but only on the proviso that gas networks are switched to run on hydrogen by 1 January 2035.
And from 2045, "all heating systems must be operated entirely with renewable energies", it says.
The new draft law lists acceptable fossil-free heating methods as: district heating; heat pumps; other "direct electric heating"; solar thermal; biomass and hydrogen [or H2 derviative) boilers; and hybrid heat pumps using at least 65% renewable energy overall.
"When installing or setting up a heating system... which can use both natural gas and 100% hydrogen, the owner may use natural gas for heat generation... until January 1, 2035," says the proposed legislation, but it adds that the gas distribution system operator will have to discontinue the natural-gas supply by this date.
The building owner would also have to purchase 50% "green gases" — biomethane or other gases derived from methane — from January 1, 2030, and 65% green or blue hydrogen from January 1, 2035, and provide evidence of doing so by each relevant date.
This 65% figure appears to have been chosen because the bill states that all heating system must get at least 65% of their energy from renewable sources by 2035, rather than a plan for gas distributors to supply 65% clean hydrogen to end users, or to allow building owners to supplement their H2 supply with other types of fuel.
The bill adds that the "discontinuation of the natural gas supply to the connected customers" must be achieved by January 1, 2035 at the latest.
As part of this, the gas distribution system operator "must explain how the gas network infrastructure in his network area is to be converted to a hydrogen infrastructure by 1 January 2035".
"This transformation plan must include an investment plan with two- to three-yearly milestones for the implementation of the new construction or the conversion of the gas network to hydrogen."
The draft law adds: "If the heating system cannot be operated with at least 65% green or blue hydrogen... because the new construction or conversion of the distribution network has not been completed or it is not connected to an upstream hydrogen transport network or to a secured local hydrogen production... the person responsible for the heating system is obliged to comply with the requirements [of this law]."
The bill also defined blue hydrogen as produced from natural gas and carbon capture and storage with lifecycle greenhouse gas emissions (including upstream methane emissions) of 94 grams of CO2-equivalent per megajoule — or a stricter interpretation agreed in the future by the EU.
A note attached to the legislation explains that the use of hydrogen would require "the existing natural gas network to be converted to hydrogen".
"Extensive adjustments are necessary for this and it is also not clear whether such a conversion of the existing infrastructure is technically feasible in all gas distribution networks, taking into account economic efficiency. Therefore, it cannot be assumed that, apart from the availability of hydrogen, all gas distribution networks will be converted to hydrogen.
"H2-ready heating as a fulfillment oprtion is therefore only permissible in the transition if the converstion of the gas network to hydrogen by 2035 is actually realistic and is planned by the gas network operator to which the heating is connected and the plan is supported by concrete investment steps."
But the inclusion of hydrogen heating in the proposed law has caused an outcry among consumer and climate groups.
"The discussion about gas heaters that should be H2-ready is problematic because there is currently practically no green hydrogen," said Thomas Engelke, an energy expert at the Federal Consumer Association. "It must not happen that consumers buy another gas heating system in the belief that they will soon be able to run it on hydrogen."
Uta Weiss, an expert on heating networks at energy-transition think-tank Agora Energiewende, agreed.
"Unfortunately [green hydrogen] is not an option because it hardly exists yet," she said. "To burn pure hydrogen, even so-called H2-ready heaters would have to be converted at great expense."
Every hydrogen-ready boilers would need an engineer to manually convert each machine to enable the switch from natural gas to H2.
She also added that burning green hydrogen would require five to ten times as much renewable electricity as a heat pump to produce the same amount of heat, due to conversion losses and the high efficiency of the electric solution.
"We also having a timing problem," she said. "Hydrogen will be scarce in the long term and will not be available in large quantities until the mid-2030s at the earliest."