The UK government should "drive rapid development of the hydrogen economy by stimulating demand in blending, heating and transport", according to the government-appointed "hydrogen champion" — a senior industry executive handpicked to act as an independent adviser.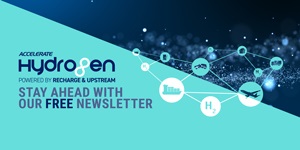 Hydrogen: hype, hope and the hard truths around its role in the energy transition
Will hydrogen be the skeleton key to unlock a carbon-neutral world? Subscribe to the weekly Hydrogen Insight newsletter and get the evidence-based market insight you need for this rapidly evolving global market
Jane Toogood, whose day job is chief executive of catalyst technologies at chemicals company Johnson Matthey, states in a 45-page report of recommendations published today that the government should support the blending of hydrogen into the gas network, that hydrogen will have a role to play in domestic heating and that the UK should incentivise the construction of H2 fuelling stations and the purchase of hydrogen trucks.
The roughly 700,000 tonnes of highly polluting grey hydrogen used by UK industry — mainly for fertiliser and chemical production and oil refining — each year is not mentioned in the report. Eight to 12 tonnes of CO2 emissions are released into the atmosphere for every tonne of grey H2 produced.
Blending
"Blending is essential in the near term to enable the hydrogen economy to meet its targets and achieve critical mass," writes Toogood in her Hydrogen Champion Report, which has the subtitle: Recommendations to government and industry to accelerate the development of the UK hydrogen economy.
"Blending potentially aids investment, reduces emissions, enables supply and demand to be balanced and facilitates early experience with hydrogen, including in the gas National Transmission System (NTS), subject to satisfactory demonstration of the safety case.
"Blending must be available by 2025 to unlock investment in hydrogen production."
But others disagree.
Influential independent analyst Michael Liebreich, who advises the UK government on energy efficiency, described the blending of clean hydrogen into the gas grid as"idiotic" and "such a colossally wasteful thing to do" in Twitter and LinkedIn posts this morning.
"Basically you go to all the cost, effort, leakage risk, etc of making clean hydrogen, and then do a bunch of low-value things with it. Taxpayers/ratepayers should rise up against this," he wrote, pointing out that the blended hydrogen would be used to generate electricity at gas-fired power stations.
"As for the idea that you need blending in order to create an early market for hydrogen - bollox. The UK, for instance, uses 700,000 tonnes of hydrogen for fertilisers and petrochemicals - all from fossil fuels. There's your early market, it's huge and used to handling hydrogen."
Chemical engineering lecturer Tom Baxter, a member of the Hydrogen Science Coalition, also complained about the blending recommendations in Toogood's report, writing on LinkedIn: "Compared to displacing current highly polluting UK grey hydrogen with low-carbon hydrogen, blending delivers around 30% less carbon saving."
He adds: "Surely, grey hydrogen displacement should be one of the UK's first targets? Also, it is a safer than blending as the hydrogen will stay within industries that have established hydrogen safety practices."
Heating
The UK government has stated that it will not make any decisions on whether 100% hydrogen could be used for heating homes until 2026, following "neighbourhood" and "village" trials — the first of which are already facing considerable local opposition.
But Toogood recommends that the government provides "early clarity on the nature of the decision on hydrogen heating for homes, including how it will be funded, to give the networks the information they need to begin detailed planning".
An early mandate for hydrogen-ready boilers ­— that can be converted from running on fossil gas to 100% hydrogen — should also be considered, she adds, pointing to an existing proposed government policy.
The gas industry has argued that this is necessary because it will prevent people from buying gas boilers that cannot later be converted to burn H2, but the proposal has been described as "greenwash" because it will allow carbon-intensive gas boilers to be marketed as climate-friendly when there is a high chance that they may never be able to burn hydrogen.
Heat pumps would require five to six times less renewable energy to provide the same amount of heat as boilers burning green hydrogen, which is why at least 37 independent studies have concluded that H2 will not play a significant role in heating, and none have recommended its usage at scale.
But this is not mentioned in Toogood's report. Instead she repeats the false accusations — often made by the gas industry — that heat pumps cannot be used in certain homes and do not perform properly in poorly insulated properties.
"Within the decarbonisation transition for UK domestic heat, where we have a high existing dependency on gas for heating already, where our housing stock is the oldest in Europe, and less easily insulated and adapted for heat pumps, hydrogen has the potential to form part of the solution, subject to the safety case being met," she writes.
Trade body Hydrogen UK — which is lobbying for the use of hydrogen in heating and whose vice-president is Angela Needle, director of strategy at gas distributor Cadent — welcomed the report, with CEO Clare Jackson posting on LinkedIn: "It's been really great to work with Jane Toogood over the past 7 months or so at Hydrogen UK. We are so pleased to see her recommendations as the UK Hydrogen Champion published today. Brilliant piece of work which makes some really insightful suggestions for both Government and industry."
Transport
Toogood's report also recommends that the government should: "Incentivise the construction of hydrogen re-fueling stations and purchase of hydrogen HGVs [heavy goods vehicles], set numerical targets to stimulate demand and align the UK with the EU in our ambition for hydrogen road transport."
The EU has a stated aim of having a hydrogen refuelling station in operation at least every 100km along its major trunk roads by 2027.
"In the UK, hydrogen fuel cell electric vehicle (FCEV) technology will be required for HGVs, buses, and other high-use vehicles on and offroad, so the largest vehicle OEMs are developing technology for both FCEVs and Battery Electric Vehicles (BEVs)," Toogood writes.
"In addition, there are multiple off-road applications in (for example) mining and construction where the UK has strong capability and hydrogen combustion has a role to play.
"However, despite early ambition and strong UK content opportunities given our innovation, engineering and supply chain capabilities, our approach around on- and off-road vehicles risks falling behind. This will negatively impact our growth if our international logistics infrastructure does not decarbonise in tandem with our nearest trade partners."
She adds: "In the UK, hydrogen refuelling stations have been closed down, leaving only 9, many of which operate infrequently."
Hydrogen Insight exclusively revealed last October that Shell had quietly closed its three hydrogen filling stations in the UK.
"While BEV technology is generally more mature, it is accepted around the world (particularly in Asia) that other technologies, such as FCEVs and e-fuels for combustion engines will also be needed." Toogood writes.
"This is partly because battery technology is not developed to enable longer haul, heavy use vehicles and partly because the level and location of renewable electricity generation will not be able to support a wholesale transition to electricity."
Other recommendations
The "hydrogen champion" makes a total of nine recommendations in her report, five of which are aimed at the government, and four targeted at "industry".
The first recommendation is for the government to "kickstart investment to overcome barriers" to deliver the first green and blue hydrogen projects at scale", which is the UK is already planning to do through its Net Zero Hydrogen Fund and Hydrogen Production Business Model subsidy schemes.
But the programmes, which were opened last July, have been delayed, leading Toogood to recommend that the government sets dates for deciding which projects receive funding and sticks to them.
Her second recommendation is to "provide a clear vision for investors" on how blue hydrogen will scale up beyond the first round of the projects in the initial carbon capture, usage and storage (CCUS) clusters.
"CCUS-enabled hydrogen production needs significant enabling infrastructure, so uncertainty affects these projects more than electrolytic-enabled [ie, green H2] production."
The third recommendation is the one to stimulate demand for blending, heating and transport, detailed above.
The fourth is to "create a plan for integrated energy infrastructure to deliver an optimal future energy system incorporating gas, electricity and hydrogen (and CO2), enabling balancing of intermittent renewable power generation".
"Capturing the significant wider system efficiency benefits has the potential to deliver up to £38bn [$46bn] cost savings," she writes. "Industry and government must work more closely together to develop this plan."
The UK's independent advisory body Climate Change Committee recently made its own recommendations on how the country's energy system should be developed, arguing that renewable electricity should be prioritised for the power grid, rather than green hydrogen production, and that blue H2 should make up the bulk of clean hydrogen in the short to medium term.
Toogood's fifth recommendation is for the government to provide an integrated plan for the implementation of its hydrogen strategy to 2030.
"The UK Government showed early policy leadership with the publication of a world-leading Hydrogen Strategy in August 2021.
"However, within government, there is a strong need for a joined-up plan for hydrogen across government departments, coordinated by DESNZ [Department for Energy Security and Net Zero], laying out dependencies between departments, identifying gaps and pinch-points in the timeline to ensure that both project investment and government decarbonisation goals are delivered on time.
"Working back from the 2030 targets already agreed, the Government should develop the Hydrogen Strategy to the next level of detailed milestones to make clear which decisions are needed to be taken by when. While integrated planning is needed internally within government, a reasonable degree of detail around these plans needs to be visible to hydrogen stakeholders.
"This is important to restore confidence, identify issues and put in place resource to address them to keep the development of a complex, integrated economy on track."
Toogood's four recommendations for industry are as follows:
"Industry should work closely with government in dedicated work groups to help resolve problems and gaps in resource", such as safety assessments on blending and heating.
"Industry and trade associations should work together to evaluate the scale of the economic opportunity of hydrogen, to ensure this is not underestimated." This includes a "full picture" of the number of jobs that could be created by the H2 economy.
"Industry should work closely with government to identify UK strengths, make voluntary commitments to deliver UK content and to formulate a wider supply chain strategy that builds on UK strengths."
"An industry supported delivery workstream on skills is required both to join up industry, government and academia and to ensure that near and long-term skill needs are met within the supply chain strategy."
In a statement released by Johnson Matthey, Toogood says: "Hydrogen has a significant role to play in delivering a resilient, integrated net zero energy system across the globe. Within the UK, we have made a strong, early start to capitalise on our natural advantages.
"We are in a unique position to get the benefit from plentiful offshore wind and over one third of the EU's potential CO2 storage. We have set a strong low-carbon hydrogen standard, developed our certification scheme, and the business models to underpin hydrogen markets are nearing completion.
"We also need a well joined-up approach across UK government. In order to get spades in the ground for the leading hydrogen projects before the end of next year, companies investing in hydrogen and its supply chain need clarity, certainty, and confidence to invest capital. Strong signals from the UK Government, demonstrating a long-term commitment to hydrogen, will unlock significant investment to underpin the UK's hydrogen economy."