India is set to issue its first tenders under its National Green Hydrogen Mission programme next month, and they will be huge, according to the top civil servant in the Ministry of New and Renewable Energy (MNRE).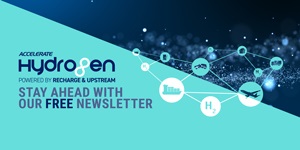 Hydrogen: hype, hope and the hard truths around its role in the energy transition
Will hydrogen be the skeleton key to unlock a carbon-neutral world? Subscribe to the weekly Hydrogen Insight newsletter and get the evidence-based market insight you need for this rapidly evolving global market
"We are in mission mode and want to hit the ground running," MNRE Secretary Bhupinder Singh Bhalla yesterday told Indian business publication BQ Prime — a joint venture between Bloomberg and local digital company Quntillion Media.
"In tranche one, we can fund about 3GW per year of electrolyser manufacturing capacity and three million metric tonnes of production capacity.
"We will provide the incentives for five years; that will mean we will fund 15GW of electrolyser manufacturing capacity in total."
India had 8GW of electrolyser factories lined up to begin production by 2025, according to analysis from Rystad Energy last October.
It is not clear if Bhalla's three million tonnes figure was a reference to annual green hydrogen production, or a total tonnage spread out over multiple years — although the latter would be more likely, given the sums involved (see below).
In January, the Indian cabinet approved an "initial outlay" of 187.44bn rupees ($2.4bn) for its National Green Hydrogen Mission, which aims to make India a global hub for the production, utilisation and export of renewable H2 and its derivatives.
At the time, it was announced that the vast majority of the funding — 174.9bn rupees ($2.11bn) — would be spent on two distinct financial incentives: one for the production of green hydrogen and the other for the domestic manufacturing of electrolysers.
The government said in January that the funding "is likely to" enable at least five million tonnes of annual green hydrogen production capacity by 2030 — powered by about 125GW of new renewable energy projects.
And in April, it was reported that green hydrogen producers would receive a subsidy of at least 30 rupees ($0.36) per kilogram, with 50 rupees/kg offered in the first two years, although these figures have not been confirmed by the government.
By comparison, the US is offering production tax credits of up to $3/kg — 88% higher than 30 rupees — while the EU is set to have an auction-based system with a subsidy price cap of €4 ($4.36) per kg.
In a global marketplace, the relatively low subsidies might put off international investors, who could get higher returns on their investments in the US or EU.
With 130bn rupees ($1.59bn) set aside for India's green hydrogen production support scheme, a 30-rupee price would support 4.33 million tonnes of renewable H2 in total — which would indicate that the three million tonnes of production mentioned by Bhalla was not a reference to annual capacity.
Roughly speaking, three million tonnes of green hydrogen annually would require about 30GW of electrolysers, 60GW of renewable energy to power them, and total investment of about $90bn.