Norway and Germany this morning announced a plan to build a large-scale hydrogen pipeline between the two countries by the end of the decade, initially transporting blue hydrogen produced from natural gas (with carbon capture and storage [CCS]) and later transitioning to green H2.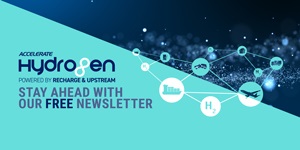 Hydrogen: hype, hope and the hard truths around its role in the energy transition
Will hydrogen be the skeleton key to unlock a carbon-neutral world? Subscribe to the weekly Hydrogen Insight newsletter and get the evidence-based market insight you need for this rapidly evolving global market
Norwegian oil company Equinor, which is 67% owned by the Norwegian state, simultaneously announced plans to pump an initial 2GW of blue H2 through the pipeline to Germany by 2030, and up to 10GW by 2038, as part of a new strategic partnership with German utility RWE.
The two companies will also collaborate on building 3GW of "hydrogen-ready" gas-fired power plants in Germany by 2030, which will use blue H2 purchased from Equinor by RWE and help to balance the grid, and also co-operate on building offshore wind-powered green H2 projects in Norway.
"In order to realise the fastest possible high-volumes of hydrogen with zero or low-emissions, we will jointly plan the use of hydrogen produced from natural gas with carbon capture and storage (blue hydrogen) for a transition period," said a joint statement from the Norwegian and German governments.
"In this context, we will ensure environmental and climate integrity by establishing for example the highest possible standards for carbon capture and storage. Both countries aim at scaling up the production of renewable energy quickly, a prerequisite for production of green hydrogen. Green hydrogen can subsequently be phased in into the common transport infrastructure."
The statement adds that a joint feasibility study into the pipeline will be conducted by Norwegian state-owned gas distributor Gassco and the German Energy Agency "to assess large-scale transport of hydrogen from Norway to Germany, and CO2 transport from Germany to Norway" — with the results to be presented in the spring.
In a press conference in Oslo this morning, Robert Habeck, Germany's vice-chancellor and minister for economic affairs and climate action, stated that while his Green Party used to be highly sceptical of blue hydrogen, he now believes that is is necessary to quickly reduce carbon emissions.
"As long as we have no other alternative, we can't just 'wait and see' any longer. If you ask me, I'd rather put CO2 in the ground than in the atmosphere."
Norwegian Prime Minister Jonas Gahr Støre added that developing a hydrogen value chain with a major emphasis on offshore wind, and CCS, two or three years ago "would have been really quite science fiction-like".
"But as somebody said, 'if it isn't science fiction, it isn't real in these times'."
Due to stringent national regulations, Norway has the lowest upstream emissions of methane — a powerful greenhouse gas — in the world, which means that its blue hydrogen will not be as detrimental to the environment as in places such as the US where upstream methane emissions are high.
Equinor says it will capture more than 95% of the carbon dioxide from the methane reformation process, and store it under the seabed off Norway.
"Norway wants to actively contribute to the development of the hydrogen market in Germany and the EU," said the government statement. "Both countries recognise that there are substantial challenges on the way to build value chains and a functioning European hydrogen market, both on the producer and recipient side. Norway and Germany will seek to accelerate the necessary framework for a functioning European hydrogen market."
RWE and Equinor's "hydrogen-ready" gas-fired peaker plants will initially use 100% natural gas supplied by the Norwegian company, which will later be replaced by blue H2 and eventually green H2, the partners explained.
"As offshore hydrogen production plants get connected over time, green hydrogen will gradually complement and ultimately replace its blue counterpart in imports to Germany," they said. "Green hydrogen from RWE's and Equinor's joint projects will fire the joint CCGT [combined-cycle gas turbine] fleet to complete its decarbonisation journey.
"In addition, RWE and Equinor will continue to explore joint investments in offshore-wind-only projects in Norway and Germany as well as green hydrogen production in Norway."
Germany and Norway also announced this morning that they have agreed to enter a strategic partnership on other climate-related matters, including renewable energy and offshore wind, CCS, batteries, green shipping, raw materials and related strategic value chains, and the microelectronics required for many green technologies.