Investors want to plough money into clean hydrogen facilities, but there is a lack of investment targets available due to permitting and regulatory constraints on existing projects, a senior analyst tells Hydrogen Insight.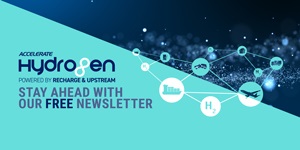 Hydrogen: hype, hope and the hard truths around its role in the energy transition
Will hydrogen be the skeleton key to unlock a carbon-neutral world? Subscribe to the weekly Hydrogen Insight newsletter and get the evidence-based market insight you need for this rapidly evolving global market
Last year saw record levels of investment in the hydrogen space — $5.7bn in the first 11 months of 2022, more than 50% growth year-on-year, according to market analyst Pitchbook — with money going into everything from early-stage start-ups to more mature infrastructure companies.
But so far in 2023, hydrogen-related funding tracked by Hydrogen Insight is far behind the pace of H2 investments last year.
Peter Gardett, executive director for research and analysis at S&P Global Commodity Insights, agrees that H2 financing has been slower this year, but says: "I think it would be unfair to characterise it as a downturn."
"There was a major rush to capital allocation [last year] as the implications of the IRA [US Inflation Reduction Act, which contained generous tax credits for H2 production] became more widely known, and now there is a positively frenetic effort under way to get projects sufficiently ready to put that capital to work," he tells Hydrogen Insight.
As green hydrogen projects are still waiting for rules around subsidies to be signed off in the US, EU, UK and elsewhere, developers are largely waiting to take final investment decisions (FIDs) — but Gardett does not believe the lack of clarity over financial support is slowing investment.
"The pace of fundraising for hydrogen in particular, but across all energy transition investment areas, has far outpaced the amount of available projects to invest in," Gardett explains.
"Several funds were raised in the idea that they'd be able to allocate capital toward construction and engineering quickly, but the fact is that often the road just to get to FID on projects of these size is generally counted in years. When raising funds that have a traditional five- to seven-year investment horizon, there are simply not enough hydrogen projects that could reasonably finish in that amount of time to justify maintaining the late-2022 pace of fundraising."
Gardett believes that regulatory uncertainty from the EU and lack of details on the US IRA are not likely to hold investors back.
"The legal clarity from the EU and the details on the IRA credits would be helpful, but investors have demonstrated they are more than willing to act in advance of government action if they think a market is emerging," he says.
"The issues here are technical constraints on large projects, including the regulatory hurdles involved in permitting new physical infrastructure, more than anything else."
Gardett adds: "Inflation may play a role in slowing down deployment as some project developers wait for renewable costs and labour costs to come back down before beginning construction, but for now that is a theoretical issue for most projects — they are simply too early in the scoping and planning stages to even begin thinking about that. The constraint here is simply the scale and complexity of large projects. As they proceed, follow-on financing will be raised and project financing arranged, and that will be a better test of capital availability for hydrogen.
"I have heard some project financiers say that the cost of renewables today is high enough, in part because of competition from power producers, that hydrogen from natural gas with CCUS outcompetes hydrogen from renewables — but they are hesitant to invest in a natural gas derived technology because of the extreme price volatility overall. That may be slowing down their investment as they look for renewable cost declines to resume again, but it is not the main factor."