As part of Germany's new plan to generate 30GW of offshore wind by 2030, an area of the North Sea has been set aside exclusively for offshore green hydrogen production, which would be connected to shore via an H2 pipeline.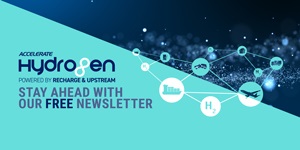 Hydrogen: hype, hope and the hard truths around its role in the energy transition
Will hydrogen be the skeleton key to unlock a carbon-neutral world? Subscribe to the weekly Hydrogen Insight newsletter and get the evidence-based market insight you need for this rapidly evolving global market
The newly created SEN-1 zone will have an electrolyser capacity of up to 1GW, with an electricity cable to shore forbidden.
Transporting power from the offshore zone to onshore electrolysers is considered an "inefficient connection option" and will therefore be "excluded", according to the 133-page Area Development Plan 2023 for the German North Sea and Baltic Sea, published by the Federal Maritime and Hydrographic Agency, a government body, on Friday.
According to a press release from the Federal Ministry for Economic Affairs and Climate Action: "Electricity from offshore wind farms is ideal, among other things, for obtaining hydrogen by electrolysis. In order to test these technologies on an industrial scale on the high seas, the area development plan defines an enlarged area in the North Sea, which can be connected with a hydrogen pipeline. The area enables an electrolysis capacity of up to 1GW."
Two European gas grid operators — Germany's Gascade and Belgium's Fluxys — have today applied to the European Commission for fast-track approvals and funding for a 400km hydrogen pipeline, known as AquaDuctus, to SEN-1 — short for "Sonstiger Energiegewinnungsbereich" or "other energy production area".
"The first step will see the SEN-1 hydrogen wind farm connected to AquaDuctus, with flows to start in 2030," said Gascade.
"In subsequent years, wind farms further offshore in Germany's exclusive economic zone may be linked up, as well as hydrogen infrastructure operated by other North Sea countries. By 2035, the offshore pipeline is to develop into a main hydrogen corridor carrying up to one million tonnes of hydrogen a year into Germany."
It adds: "Based on the gas and hydrogen package currently being negotiated at European level, the two long-standing transmission system operators plan the AquaDuctus offshore pipeline as a regulated open access infrastructure available to all future operators of hydrogen wind farms, thereby strengthening security of supply in the future."
SEN-1 could equally be connected to the recently announced hydrogen pipeline planned between Norway and Germany, which is set to initially carry blue hydrogen (produced from natural gas with carbon capture and storage).
As only 8.1GW of offshore wind has so far been installed in German waters, the new development plan will only succeed if permitting is fast-tracked.
The German government last year gave offshore wind projects the status of "overriding public interest", which it believes will speed up permitting and lower environmental hurdles.
This article was updated on 23 Jannuary to include details of the AquaDuctus proposal.