The European Commission is poised to take emergency action to speed up consent for new renewables projects, said industry body WindEurope as it warned "every month counts" in the race to add extra green power capacity to the bloc's crisis-hit system.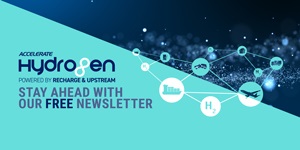 Hydrogen: hype, hope and the hard truths around its role in the energy transition
Will hydrogen be the skeleton key to unlock a carbon-neutral world? Subscribe to the weekly Hydrogen Insight newsletter and get the evidence-based market insight you need for this rapidly evolving global market
With the EU planning for all green hydrogen projects to be powered by new renewable energy facilities, such a move could be a major boost for the sector in Europe.
Brussels will table an Emergency Regulation to bring forward measures to simplify and speed up permitting for new and repowered capacity, according to WindEurope, short-circuiting a process that could otherwise have been stuck in the legislative mire for several years.
The proposal confirms a two-year deadline for member states to permit new renewable energy projects, or one year in the case of repowering. It also states that renewables should be presumed to be of "overriding public interest" when examined during consenting.
WindEurope CEO Giles Dickson said: ''These emergency measures on renewables permitting are just what Europe needs. The International Energy Agency were clear last week. We might get through this winter. But next winter will be much tougher.
"We've got to build all the new renewables we can by then. That means emergency measures to tackle the biggest bottleneck which is red tape in permitting."
Delays in planning and consenting have long been bemoaned as the biggest single obstacle to Europe adding capacity to meet its climate goals, and more recently securing energy independence following Russia's invasion of Ukraine.
The bloc brought forward its REPowerEU plan to add massive new amounts of wind and solar in response to the invasion — in wind's case, 510GW by 2030 up from 190GW now — as well as ten million tonnes of green hydrogen by the end of the decade. But WindEurope said the lengthy standard legislative process could have meant a two-year wait before the recommendations on accelerated permitting were enshrined in national rules.
"Wind farms can be built very quickly, so every month counts if we want to increase our energy security and avoid energy shortages next winter," said the industry body.
The Emergency Regulation, which is valid for a year with the possibility for extension, could ensure the acceleration measures are on the books by the end of 2022, said WindEurope.
It also includes grid connection and environmental impact assessment in its scope while ensuring enough protection for biodiversity, said the industry group.
Permitting has been among the key issues cited by Europe's wind power supply chain as it wrestles with an array of commercial pressures that some fear have left it vulnerable to competition from Chinese rivals.